Day 4: 7:00 AM-8:00 AM
EPISODE: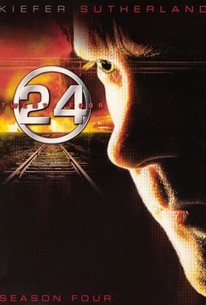 Episode Info
As the fourth season of 24 begins, terrorists blow up a train, and steal a mysterious briefcase from a passenger onboard. At CTU, Erin Driscoll (Alberta Watson) is running things, and she has fired Jack Bauer (Kiefer Sutherland) over his heroin addiction. Jack is now working for Secretary of Defense James Heller (William Devane) and is romantically involved with Heller's daughter and aide, Audrey (Kim Raver). Jack wants to tell Heller about their relationship, but Audrey is hesitant because she is still legally married to her estranged husband. Word reaches CTU of the train bombing, and Chloe (Mary Lynn Rajskub) notices that one Tomas Sherek (Faran Tahir), on their terrorist watch list, was recently spotted in L.A. Andrew Paige (Lukas Haas), a hacker, discovers some nodes indicating that someone is plotting a massive corruption of the Internet. He calls his old classmate, Chloe, who sees a possible connection to the terrorist attack, but Driscoll insists that Chloe focus on the bombing and on finding Sherek, ordering Chloe to pass Andrew's concerns along to the FBI. Andrew returns to his office to find that his discovery has not gone unnoticed, and his life is in danger. Jack arrives at CTU on budgetary business in time to help his replacement in the field, Ronnie Lobell (Shawn Doyle), apprehend Sherek. Jack realizes that a terrorist of Sherek's stature would not risk exposure over the bombing. Meanwhile, Audrey accompanies Heller as he visits his rebellious son, Richard (Logan Marshall-Green), and they argue over Richard's plans to denounce his father at an upcoming protest. A suburban couple, Navi (Nestor Serrano) and Dina Araz (Shohreh Aghdashloo), and their teenage son, Behrooz (Jonathan Ahdout), have a connection to the terrorist plot. Aghdashloo and Ahdout previously played mother and son in the feature film, House of Sand and Fog.
Day 4: 7:00 AM-8:00 AM Photos
Discussion Forum
Discuss 24 on our TV talk forum!