A.D. The Bible Continues
(2015)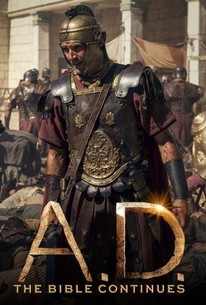 Where to watch
Buy
Buy
Buy
Rate And Review
A.D. The Bible Continues: Season 1 Photos
Audience Reviews for A.D. The Bible Continues: Season 1
love the concept of this.

Absolutely love it wish more people would watch it made me want to learn more about Jesus

This is the most ridiculous propaganda I have ever seen. I don't know where to start with the fabrications... Apparently, they did not hire an expert on Hebraic and Roman anthropology. Or perhaps as I fear, they most likely did and the all-seeing eye has infiltrated every faction of life as Johann stated. It is no wonder the church is dying quickly. (Not that it is not supposed to) It has the wife of the Cohen GaDol walking around in a yellow summer dress without her head covered, speaking to the Cohenim at the temple, and even rebuking them. At the outer court, she looks Cyapha in the eye and touches him, twice. For any one of those, a woman would be stoned. The Cohen GaDol is a fashionable twenty-seven with blue eyes and walks around with his head unbound and enters the home of Pontius Pilate. Pilate's wife is sitting at a table and Cyapha speaks to her. sigh... Pilate has no guard detail while he walks through Judea and no identification of his position. Roman governors wore tunic and togas for formal occasions and tunics and cloaks for casual wear. They would have a purple stripe on the hem of their tunics and toga and in this production, the governor is wearing Centurian armor, which is not accurate. Yochanon (John) is black, which is historically fine, however, we can surmise why this is done in this age. I do think someone black should be included, since Yisraelites are all different colors of people, historically speaking. Then the Cohen GaDol (high priest) goes to the cross to inspect it. sigh... again, something that would never happen. This series is nothing but propaganda and was painful to watch.

Amazing Season, Definitely Need Season 2, Season 1 had Superb Characters, The environment felt surreal, The way its tied to the gospel accounts

Awesome series! I can Testify that the holy spirit from the pentecost are legit. As I have experience to received the gift too. A sign from above that it is the truth. Great portrayal of all the characters. :)

Absolutely loved it! Such a fresh & professional take on an amazing story to be told. Was devastated to find out that season 2 was cancelled. Even more, my heart broke to feel like episode 12 was interrupted mid-way and so did not feel like an ending to season 1. NBC, what's up? Your decision does not make sense. Would love to see this project revive & flourish! I would even be willing to support the crew financially. Should we do crowdsourcing?

Amazing , the actors was acting on point ! I loved it and i rarely get amazed by series ( i usually don't watch tv or Netflix ) pleasee make season 2 on netflix or statzplay anythingg ❤️❤️

More people should see this

Please i want to see season 2 😭 eagerly waiting for the season 2😓😪

This movie has strengthen my faith in Christ Jesus and it is a must watch movie for all christians and even those who seek salvation. Please we need season 2.
See Details