A.D. The Bible Continues: Season 1
(2015)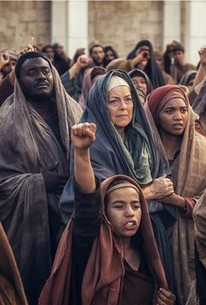 Rate And Review
A.D. The Bible Continues: Season 1 Photos
Tv Season Info
Based on the Bible, this miniseries picks up where its predecessor, The Bible, left off and begins with the crucifixion and resurrection of Jesus. The story then continues with the first ten chapters of the Book of Acts and highlights the apostles and their devotion to spread the gospel, regardless of the cost.
Audience Reviews for A.D. The Bible Continues: Season 1
Awesome series! I can Testify that the holy spirit from the pentecost are legit. As I have experience to received the gift too. A sign from above that it is the truth. Great portrayal of all the characters. :)

Absolutely loved it! Such a fresh & professional take on an amazing story to be told. Was devastated to find out that season 2 was cancelled. Even more, my heart broke to feel like episode 12 was interrupted mid-way and so did not feel like an ending to season 1. NBC, what's up? Your decision does not make sense. Would love to see this project revive & flourish! I would even be willing to support the crew financially. Should we do crowdsourcing?

Amazing , the actors was acting on point ! I loved it and i rarely get amazed by series ( i usually don't watch tv or Netflix ) pleasee make season 2 on netflix or statzplay anythingg ❤️❤️

More people should see this

Please i want to see season 2 😭 eagerly waiting for the season 2😓😪

This movie has strengthen my faith in Christ Jesus and it is a must watch movie for all christians and even those who seek salvation. Please we need season 2.

Brillant film. Keep up the good work.

Please bring back a season 2 the whole family and our church watched the series 4 times over . Dont want the message to end.

Was amazing!! If I had known this was run on TV I would have watched for sure hope they finish the rest of Acts

What an amazing show! It gives the story of the aftermath of Jesus's death a fantastic perspective with actors that do a SUPERB job. My fav being the high priest. What an incredible character with lots of personality who is supposed to be the bad guy here but in reality, he really wants the best for his people. Don't forget to watch the previous series The Bible.