BoJack Horseman: Season 1
(2014)
SEASON: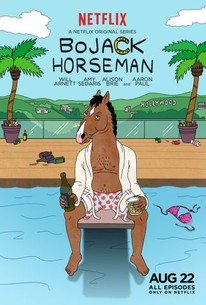 BoJack Horseman: Season 1 Videos
Tv Season Info
Will Arnett voices BoJack, the failed legendary 90's sitcom star from the favorite family sitcom Horsin? Around, who has been trying to find his way through a muddle of self-loathing, whisky and failed relationships. Now, in the presence of his human sidekick Todd (Aaron Paul) and his feline agent and ex-paramour Princess Carolyn (Amy Sedaris), BoJack is primed for his comeback...
News & Interviews for BoJack Horseman: Season 1
Audience Reviews for BoJack Horseman: Season 1
½
Though its rocky beginning as a simple-minded Family Guy-style animated comedy with a few swear words around, the remaining of the season remarkably flows as a mature show that can either be thoughtfully hilarious or extremely heart-breaking.
½
With a solid blend of touching and comedic moments, "Bojack Horseman" has a very enjoyable first season even though it doesn't feel entirely fresh. This animation style mixed with adult humor has been done to death all over nighttime television. That being said, this show embraces whatever is left to be funny with this dying genre and I laughed pretty hard throughout quite a few episodes. The writing can be very hit or miss in some episodes, but by the end, it has a nice message that will have you looking forward to the next season. I can only hope that it does get a tad funnier though. Overall, "Bojack Horseman: Season 1" deserves some recognition, because it is better than a lot of stuff out there going for the same result. Netflix cares, and they are not going away anytime soon.
½
Will Arnett stars in the Netflix original series BoJack Horseman. The show follows the washed-up star of a '90s sitcom, BoJack Horseman; and in Season 1 he works with a ghostwriter to writer his memoir, but he's reluctant to open up and is concerned about tarnishing his image. It's an interesting premise and allows for a number of fun stories. However, the world that's setup is bizarre, with a combination of human and animal-people characters (horses, cats, dogs, etc., with animal heads and human bodies). And this lends to a lot of jokes based on wordplay; which are hit and miss. But overall the comedy is pretty sharp, with some clever Hollywood satire. Arnett is especially good, and brings his own unique personality and charisma to the role. Plus, a host of guest stars make appearances throughout the season; including Olivia Wilde, Patton Oswalt, J.K. Simmons, Wallace Shawn, Judy Greer, and Naomi Watts. Season 1 of BoJack Horseman is a little rough around the edges, but it delivers a ton of laughs.
Discussion Forum
Discuss BoJack Horseman on our TV talk forum!