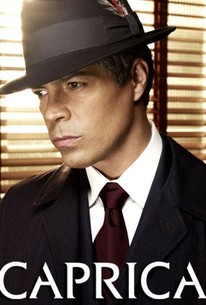 Rate And Review
Tv Season Info
A prequel to the remake of Battlestar Galactica, the SyFy channel program "Caprica" takes place 58 years earlier. Episodes dramatize mankind's creation of the Cyclons, enslaved robots that ultimately gains enough artificial intelligence to rebel against their captors and attempt to overthrow humanity. The story depicts an initially harmonious world divided into 12 colonies, and ruled by technology. At the center are two families, the Adamas and the Graystones. Patriarchs Joseph Adama (Esai Morales) and Daniel Graystone (Eric Stoltz) each lose family members to acts of terrorism. Though the wealthy Daniel chooses to have his daughter restored through advanced robotics - making her one of the first successful Cyclons - Joseph expresses serious reservations about having his own daughter restored. Eventually, a major interfamilial schism emerges, that lends the series much of its tension.
Audience Reviews for Caprica: Season 1
From the creators of Battlestar Galactica comes the prequel series Caprica. Set 58 years before the Fall of the Twelve Colonies, the show follows wealthy industrialist Dr. Daniel Graystone as he works to develop a sentient robot based on a living avatar that his daughter created of herself before her death in a terrorist attack; meanwhile mob lawyer Joseph Adama, whose daughter also died in the terrorist attack, reconnects with his cultural roots. The casting is really good and they deliver some extraordinary performances. Additionally, the special effects and set designs are especially well-done, and give the show a unique visual aesthetic. Also, the writing does an impressive job at addressing sociopolitical issues such as scientific ethics, racism, and religious fanaticism. However, the storytelling is a little weak in the season's second half. Caprica is a different kind of show than Battlestar Galactica, but it's still a compelling and provocative series.

Brilliant series, ahead of its time. If released on Netflix today, we would've had many seasons to enjoy. Guaranteed.

because this 1 season still holds 19 episodes, we do get to see major character development and canon history in this prequel to BSG. exploring various technological aspects, with occasional religious and political scheming mixed in. overall this could easily have been stretched into 3 shorter seasons, and really deserved a longer run!

My favorite TV show EVER!

Delves much deeper than BSG into effects of the newly emerging Monotheist ideology on a world that respects and co-exists with multiple systems, personified by Polytheism.

So much potential, so much time wasted in senseless scenes. I can see why it did not get a second season.

It forgets to tell even a halfway decent story...