The Larry David Sandwich
EPISODE: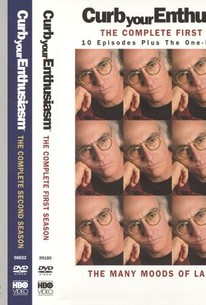 Episode Info
Larry (Larry David) almost drowns while swimming in the ocean. As he later tells it, in a moment of panic, he cries out to God, and is deposited safely on the beach. "Now maybe you'll start to be more respectful to people," Susie (Susie Essman) suggests, but Larry doesn't get her point. With his newfound faith, he decides to go to temple for the High Holy Days, but Jeff (Jeff Garlin) explains that one has to order tickets months in advance, and that the services are sold out. Larry eventually decides to go to a scalper (Paul Ben-Victor). Larry is initially thrilled to learn that his favorite deli, Leo's, has named a sandwich after him. But, when he finds out the ingredients are whitefish, sable, cream cheese, capers, and onions ("That's a disgusting sandwich"), he tries to have it changed. Leo (Ed O'Ross) agrees to allow Larry to change if someone will switch with him. Nat (Shelley Berman) seems to enjoy the whitefish, but suffers some kind of attack while eating it, and has to be rushed to the hospital, where, delirious, he whispers something that to Larry sounds like "You're adopted." Later, Ted Danson refuses to switch sandwiches with Larry, and at temple, he gets into a spat with Richard Lewis, who is jealous of Larry's sandwich. Also, a chief surgeon (Kenneth Kimmins) appears to get "the yips" on the golf course, and when Cheryl (Cheryl Himes) complains about Larry interrupting sex to answer the phone, he responds sarcastically, "Oh, sacred intercourse cannot be interrupted!"
The Larry David Sandwich Photos
Discussion Forum
Discuss Curb Your Enthusiasm on our TV talk forum!