No Other Sons or Daughters
EPISODE: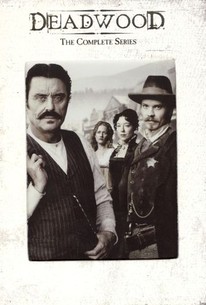 Episode Info
Magistrate Claggett (Marshall Bell) arrives in Deadwood from Yankton to speak with Al (Ian McShane) about the government's plans for the camp. Claggett tells Al that it could work out so that a citizen can have title to any land by simple usage, and suggests that some sort of ad hoc government in the town might help their cause. Al just wants to know who to bribe, and how much, and Claggett gives him a list, adding that a warrant's reached Yankton charging Al with a murder in Chicago. Claggett is willing to quash the warrant for a price. And so, Al gathers the camps leaders at the Gem to appoint government positions, and determine how funds will be raised to pay the bribes. E.B. (William Sanderson) nominates himself for mayor, while Seth raises his hand for health commissioner (to avoid being chosen for sheriff), and Charlie (Dayton Callie), who's just opened up his freight and delivery service, ends up the fire commissioner. Sol (John Hawkes) also makes note that Trixie (Paula Malcolmson) has returned to the Gem, and goes back there to see her later. Eddie (Ricky Jay) and Joanie (Kim Dickens) are both upset with Cy (Powers Boothe) over how he dealt with Flora and Miles. Joanie makes plans to open her own brothel in town, with Cy's backing. While looking for a place, she runs into Charlie, who is also nervous about his new business. Smith's (Ray McKinnon) health continues to deteriorate, and he finally goes to see the doc (Brad Dourif). Seth tells Alma (Molly Parker) about his family. Jane (Robin Weigert), inebriated, rejects Charlie's job offer, and expresses a desire to leave the camp. "I will not be a drunk where he's buried," she tells Charlie, "and I cannot stay f*cking sober."
No Other Sons or Daughters Photos
Discussion Forum
Discuss Deadwood on our TV talk forum!