The Son Also Draws
EPISODE: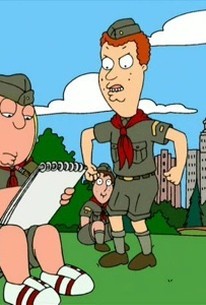 Episode Info
Chris (voice of Seth Green) wants out of the Scouts, and no wonder, with a Scout leader who always calls the troop "girls," and who shrieks at Chris for sitting outside the semicircle. Chris would rather devote his time to drawing, but he doesn't have the heart to tell Peter (voice of Seth MacFarlane). Peter is so psyched about Chris being a Scout that he even builds him a go-cart for the soap-box derby. Surprisingly, Speed Racer turns out to be one of Chris' opponents. The race ends (well, starts) disastrously, and Chris is kicked out of the troop. But Peter refuses to take it lying down, getting the family into the car for a drive to the Scouts' main office in New York. Brian (MacFarlane) stays behind, explaining that he's been to New York, and "it's like Prague, without the whimsy." Peter gets lost en route, and a bathroom emergency brings the family to Geronimo's Palace, a Native American casino. While Peter uses the bathroom, Lois (voice of Alex Borstein) wanders over to video poker, where a casino worker reassures her, "Technically, it's not really gambling; it's just us trying to rebuild our shattered culture after you raped our land and defiled our women." Lois gives it a try, and has soon gambled away the car (shades of Lost in America, which the creators acknowledge on the DVD commentary). Peter tries to get the family's money back by claiming to be part Native American. The council of elders decides that he must go on a "vision quest," a spiritual journey into the wilderness without food, water, or shoes, to prove his ancestry. Chris goes along, hoping for an opportunity to tell Peter that he doesn't want to be a Scout.
The Son Also Draws Photos
Discussion Forum
Discuss Family Guy on our TV talk forum!