Firefly: Season 1
(2002 - 2003)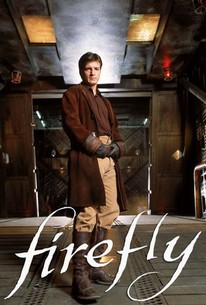 Rate And Review
Tv Season Info
A former rebel and his renegade crew embark on galactic missions for profit in a transport ship, named Serenity, in this space swashbuckler set 400 years in the future.
News & Interviews for Firefly: Season 1
Audience Reviews for Firefly: Season 1
Firefly fails to reach the same narrative highs as some of Joss Whedon's other, more consistent work, but it does boast fully realized characters with an unbreakable on-screen chemistry, unforgettable dialogue and an impressive visual flair.

There is this one question that from eons untold haunts many a sci-fi enthusiasts all over the world, and it goes like this: "<Star Wars> or <Star Trek>?". Well, from now on to that question I firmly answer: "<Firefly>". This show, despite being so very, very short, is not only a definitive visual work in the entirety of the space western genre (sorry, "Mandalorian", but you ain't even close), it is a bona fide definition of a cult classic. Nothing that I've seen in similar works (including both of aforementioned titans of science fiction) achieves so effortlessly such an Olympic level of writing, and that applies to it all: originality of characters, their dialogues (especially the clever one-liners), plot structure both in episodes and in the series as a whole... And there is a thousand and a one other things that went well here (cast, sets, world-building, costumes, design of it all), so if I were to name them all, this review would quickly become a book, so I will try and contain myself. Although I must at least mention Nathan Fillion and how splendidly he embodied the role of captain Malcolm Raynolds – an archetype of the space smuggler with heart of gold that, in my personal opinion, outranks even Han Solo himself. And with all this praise said and done I can now only add one last thing, with a smile on my face: "There's no place I can be since I found <Serenity>...".

The show that should have been the best science fiction series of all time, with wonderful attention to detail and not a single dud episode. Fondly remembered by a loyal audience, its genius was dis missed at the time in favour of more profitable ventures.

What else really needs to be said? This is basically a masterclass in all forms of cinema: narrative, music, screenplay, framing, presentation, costume, concept. Firefly is eternally strong, and its indoctrination among the most cultish of classics through its strained creation and distribution only makes its legendary aesthetic even more unique and inspiring. This is a true gem among the sci-fi canon, and there will likely never be anything that hits the notes quite as right as Friefly did.

Hands down, the best SciFi TV series ever! Of course there were only a little over a dozen episodes, so Firefly never had the opportunity to stale.

It was really such a damn crying shame that this show was as screwed over as it was because the show kicks ass, despite lasting only 14 episodes, 3 of which never even aired. Maybe Joss Whedon should've considering pitching this show to a different company. After all, his scripts for his last two sci-fi endeavours were hit big time by executive meddling. While I perhaps won't become as fanatic about the show as those who started watching it and got PISSED with the network leaving the show to rot, that doesn't mean I didn't find a lot worth loving. The writing is sharp and witty with some hilarious bait-and-switch moments, the acting is stellar, the action sequences are enjoyable, the cheesy camerawork serves as part of the show's charm, the world-building makes the show stand out primarily by being essentially anti-Star Trek with no aliens or ambassadors, the characters are memorable and fleshed out pretty well and the cast shares great chemistry with each other. You can definitely get the feeling of friendship and camarederie with the crew of Serenity and clearly had a lot of fun hanging out with each other, everybody having their own dynamic with each other that are all entertaining in their own right. Maybe in an alternate reality, Firefly is this big TV show that became a cultural phenomenon the same way Fox shows like The Simpsons and The X-Files left an impact but the fourteen episodes we got to see in this reality definitely make the show worth checking out. Besides, the series stilll managed to live on with a movie and a lot of comic books. If that wasn't reassurance that this show hasn't fallen into obscurity, I don't know what is.

A must see mismanaged show with a fantastic cast and a story that should have lasted forever.

The Most Amazing Space opera Ever-Made!its a Shame on Studio that it wasn't continued,Literally Each and every episode is worth experiencing,the Characters were heart and there Togetherness and weirdness was engaging and amazing to watch,the back-story of whole crew specially The Shepherds was very Amazingly Glimpsed Love to see whole Origin of his and whole crew,the music and intro of whole show has the out-of-world feeling,the Story was brilliant,the visuals and CGI was breath-taking,the whole theme and feel of show the western fights and all it was literally incredibly awesome.The jokes and Punchlines throughout the show was sarcastic and amazing the whole "Our Mrs Reynolds" Episode is jaw-droppingly hilarious,the Cultures and system through-out the show was amazingly showcased,right from the start the adventures in different planets was awesome to explore,the main plot Inara's and Mal's love story was amazingly developed yet the incomplete ending was sad,the RIver and Simon's story was emotionally encouraging and the Last episode it was emotionally satisfying.Literally each and every episode in this show is Masterpiece!Overall its the Must-watch Incredible/speech-less experience A Masterpiece!

A cult sci-fi western classic.