Hostages: Season 1
(2013-2014)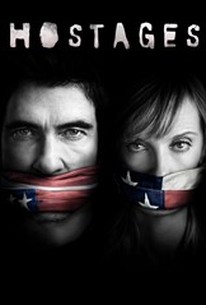 Hostages: Season 1 Photos
Tv Season Info
A deadly cat-and-mouse game between a world-renowned surgeon and a rogue FBI agent begins in Series 1 of this high-octane suspense thriller. Dr. Ellen Sanders (Toni Collette), a respected Washington, D.C., surgeon is selected to operate on U.S. president Paul Kincaid (James Naughton). But the day before the surgery armed intruders, led by FBI agent Duncan Carlisle (Dylan McDermott), take her family hostage and demand that she kill Kincaid during surgery or they will murder her husband, son and daughter. To buy some time, Ellen slips the president some blood thinner which causes the procedure to be postponed for two weeks. As Duncan and his gun-toting allies hold the Sanders family hostage until the assassination can take place, dark secrets begin to spill out and it becomes clear that Duncan is taking orders from someone higher up and that the conspiracy is much bigger than anyone could imagine.
Audience Reviews for Hostages: Season 1
½
Dylan McDermott and Toni Collette lead the cast in the CBS drama Hostages. When the President goes under the knife for a routine surgery a group of mercenaries hold the surgeon's family hostage in order to force her to kill the President; but soon things get complicated and the family begins to question whether they should be helping the mercenaries instead of resisting them. The season starts out a little weak as it tries to seed too many subplots, but around midseason it finds its focus and begins to weave a compelling conspiracy. While there are some problem with story structure, Hostages delivers an entertaining 15 episode first season that's exciting and full of thrills.
Discussion Forum
Discuss Hostages on our TV talk forum!