It's Perfectly Understandishable
EPISODE: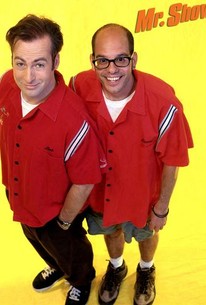 Episode Info
A rehearsal tape shows Bob Odenkirk and David Cross being whipped and forced into cages by their trainer, Lane (John Ennis). This segues into an episode of "Those Amazing Actors," with Lane explaining the rigors of getting actors to perform. He's shown slathering peanut butter on the faces of two soap opera actors, in order to get them to kiss convincingly. "There's a reason for the expression, 'As dumb as an actor,'" Lane explains, as guest star Vince Vaughn is shown chasing sheep. In a later skit, a bloody accident victim manages to dial her cell phone, calling "The Emergency Psychic Hotline." Manning the phones are psychic Mystique (Becky Thyres), J.D. Path (Jill Talley), and Maple Syrup (David), an obese, Jheri-curled soul singer. When someone calls in to say his baby fell in the pool and isn't breathing, Mystique tells him, "I'm receiving a color image -- sort of an aquamarine?" "Oh, my God," the caller responds, amazed, "She's turning blue!" In the unusually lengthy sketch that closes out the show, Bob plays suburban teen Dougy, who is chosen as the 18th incarnation of the Dalai Lama. While Dougy is adjusting to life as a Buddhist monk in Tibet, his friend Derek (David) writes him from America. "Did you see the Video Awards? Halen won!" "It is good news about Van Halen," the spiritually awakened Dougy writes back, "Like the lotus, they bloom for you again and again." But when Derek shows up in Tibet looking for a job, their friendship is tested. The monks learn to deal with Derek's propensity for juvenile pranks, just in time for them to compete in the "Summer Olympican" against "those rich snobs from the fat kids camp." This Meatballs-style parody features cameos from Brian Doyle-Murray and Jon Cryer as Ducky.
Discussion Forum
Discuss Mr. Show With Bob and David on our TV talk forum!