Murphy Brown: Season 11
(2018)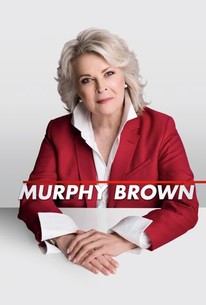 Rate And Review
Murphy Brown: Season 11 Videos
Murphy Brown: Season 11 Photos
Tv Season Info
Multiple Emmy Award winners Candice Bergen and series creator Diane English reunite for MURPHY BROWN, the revival of the ground-breaking comedy about the eponymous broadcast news legend and her biting take on current events, now in a world of 24-hour cable, social media, "fake news" and a vastly different political climate. Amid a divided nation, chaotic national discourse and rampant attacks on the press, Murphy decides to return to the airwaves and recruits her FYI team: lifestyle reporter Corky Sherwood, investigative journalist Frank Fontana, and her former wunderkind news producer Miles Silverberg. Joining them is social media director Pat Patel, who is tasked with bringing Murphy and the team into the 21st century. Murphy's millennial son, Avery, shares his mother's competitive spirit and quick wit, and is following in her journalistic footsteps -- perhaps too closely. The team still lets off steam at Phil's Bar, now run by his sister, Phyllis. Now back in the game, Murphy is determined to draw the line between good television and honest reporting, proving that the world needs Murphy Brown now more than ever.
News & Interviews for Murphy Brown: Season 11
Audience Reviews for Murphy Brown: Season 11
If your into old-shaming this is for you.

I absolutely loved the old series of Murphy Brown and was so excited to hear it was coming back. After watching the first episode I was extremely disappointed but I did give the new series several chances and it really didn���t get any better. Every episode was like an afterschool special. I know the original series had episodes regarding specific issues : political, current events, etc but It was actually funny and not every episode wereon those topics unlike this new series. maybe they just need better writers because we know from the original series the actors have good chemistry and are very funny together but this new series seems to be forced and includes a series of one-liners that are not funny.

I LOVE Murphy Brown. It is smart and entertaining.

The laughs were good, although Bergen was a little stiff in the acting department throughout.

We love this show! Nice watching Candace as Murphy and all the former casts and new ones too....I like it when they're being funny, sometimes they do the drama, I prefer when they do comedy (right now, it's like drama in the news) so we enjoy watching Murphy Brown especially when the ending is funny.... we liked the first 2 episodes a lot and the one with the dog, cute

I loved the original 10 seasons, so I was really looking forward to this. Well,I didn't even make it to the end of the first episode. It started kind of clunky, but the cameo in the middle was the deal breaker. I expected better from Murphy Brown than simplistic partisanship.

When reality doesn't fit your narrative, you make it up.

I used to watch the original show. Perhaps I remember it as better than it was, but the reboot has been disappointing to say the least. Every conservative character is instead a caricature. All the leftist/liberal characters are portrayed as the only good and decent people.

I liked the original show, but the only thing good on the re-boot, is Avery.

overall its fine so far but old slugger isnt doing much slugging anymore.