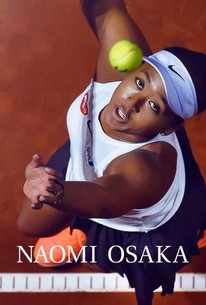 Where to watch
Subscription
Rate And Review
Episodes
Air date: Jul 16, 2021
Raised to be a winner, the tennis player chases a childhood dream of becoming a champion at the 2019 US Open; however, as her star rises, success and fame take a toll.
View Details
Air date: Jul 16, 2021
As she explores other talents, Naomi struggles with her mental well-being and sense of purpose while dealing with the loss of a mentor.
View Details
Air date: Jul 16, 2021
After George Floyd's murder, Naomi joins a protest for the first time in Minnesota; later, she uses her platform on the court and finds her voice.
View Details
Naomi Osaka: Season 1 Photos
Cast & Crew


Audience Reviews for Naomi Osaka: Season 1
I hope she come back to the game of tennis and started wining grand slams again. She could become the next Serena Williams....

Just saw the new press conference where she was crying again. Must be exhausting to throw the victim card around 24/7/365.

Guess she doesn't mind cameras and questions as long as there is a nice cheque.

Mental health issues.... Yeah, whatever.

All about what Snowflakes are the worst generation ever. they feel entitled and they have no brain cell left.

This human, Naomi, deserved more time to be herself and grow before a camera scrutinized her life thus far. I am so disappointed by some of the vicious reviews. Especially when you theorize that she lied to get out of the press conferences. When you say this it sounds like this is the attitude that you have about other peoples depression or anxiety, that is is a lie or exaggerated. Criticize the movie makers if you want, but do not tear down a young adult who needs more time to find her place in the world. When Naomi is ready she could use her platform to help destigmatize mental illness. Admitting her susceptibility to mental health challenges is helping so many already, further legitimizing the struggle. Attacking her personally right now is NOT HELPFUL to any young adult struggling with mental illness.

Disappointing to see a show made exactly for the reasons that Ms. Osaska has been avoiding the media. I think this kind of exploitation is very sad, and does not deserve praise.

Very interesting three episodes to learn a bit about Naomi Osaka's life off the courts that provides real information about who the real Naomi Osaka is: a young talented player with a sweet, humble, kind-hearted personality

I only tried this due to a recommendation. It isn't bad but not interesting to me at all.

As nonsensical as Kpop documentaries. Celebrities being celebrities. People being people. Yawn. Nothing fresh here.
See Details