Elementary, Dear Data
EPISODE: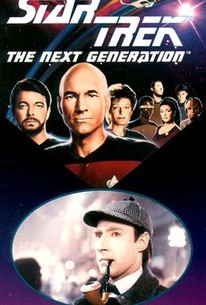 Episode Info
Fondly remembered by Next Generation devotees as "The Sherlock Holmes episode," "Elementary, Dear Data" originally aired December 10, 1988. While awaiting their next assignment, Data, Geordi, and Dr. Pulaski head to the Holodeck to participate in a virtual reality Sherlock Holmes mystery. Insisting that Data's deductive skills are no match for a human being's, Pulaski challenges the android to match wits with archvillian Professor Moriarty (Daniel Davis). Alas, Moriarty escapes into the "real world," ostensibly for the purpose of wreaking his usual havoc, but there's a surprise in store for everyone before the final fadeout. Written by Brian Allan Lane, "Elementary, Dear Data" earned two Emmy nominations, one for Best Art Direction.
Elementary, Dear Data Photos
Discussion Forum
Discuss Star Trek: The Next Generation on our TV talk forum!