The Big Bang Theory: Season 12
(2018 - 2019)
SEASON: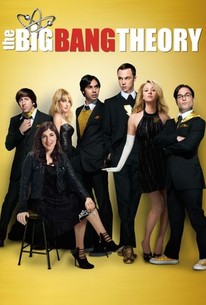 Rate And Review
The Big Bang Theory: Season 12 Photos
Tv Season Info
Series 12 of this sitcom.
News & Interviews for The Big Bang Theory: Season 12
Audience Reviews for The Big Bang Theory: Season 12
Love the Big Bang Series. It is just as good as I'm streaming it on HBO as it was when it first came out. A lot of fun!

The Big Bang Theory is a great. the first 4 seasons were bang. Season 5-12 were also good but they were not that great mainly due to relationship drama. From first 4 seasons, I got a lot of good laughs. I am not saying that rest of the seasons were bad. They were also good but when Amy and Bernadette entered the story, the story changed from story of nerd friends to story of relations of 3 families and 1 single (Raj). It was not fun to watch Howard-Bernadette and Sheldon-Amy in this story, they were irritating and less tolerable. In starting, it was so different from other sitcoms but after S05 it felt like every other sitcom. I recommend the old seasons but overall, it's a great show and you will surely enjoy it.

The Big Bang Theory comes to a sad and tender close as a show that will be loved by thousands of fans. I really enjoyed the final season's overarching plot line but also the final episode is perhaps the best final episode of an American sitcom since Friends!

It was great, funny, heartwarming and just hit the spot with all the little closure moments the characters had during the seasons, not to mention the enormous emotional speech Sheldon gave at the end. I don't think there's anything left to say that hasn't been said over one of the previous seasons, so this is just a heartfelt goodbye to the people that made us feel special and respected in our own skins and brains! My one and only disappointment came when Howard prevented from Raj flying over to London in that over-the-top bromance fashion essentially convincing him that the the best match for Raj is Howard (knowing full well that would never happen. and that it took Raj literally YEARS to become any sort of husband material..), it's sad because, well, he had so many seasons to go see a therapist or find someone and they did nothing with it. Thank you for this and the time I so happily spent watching (and re-watching) the show.

This show constantly brings laugh and where some shows can become stale when they have such a long run Cheers and Big Bang Theory are the exceptions

The final season as a whole and the final episode in particular offers a satisfying closer to this incredible series.

Great closer for the characters in the end. Could of had more memorable episodes.

A show similar to friends, but with a premise that's more creative. However, the humor that the friends treat each other poorly isn't the sort of people I go trying to be friends with. The show has a good premise, but the character development could be over. Also the laugh-track is much overused.

i really love this show!!! It's so sad that it has come to an end. I will really miss them. And great season btw I think they ended the show perfectly:)

Finally the end of a series that was supposed to be about geek culture but ended up being a Friends wannabe where the men main cast had to abandon everything geek (hobbies and likes) just so that they can end up with girls that don't like anything about it. Good riddance.