The Lost Pirate Kingdom
(2021)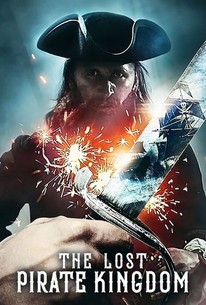 Where to watch
Subscription
Rate And Review
The Lost Pirate Kingdom: Season 1 Photos
Audience Reviews for The Lost Pirate Kingdom: Season 1
It was really well done and seemed to be historically accurate. But it was dragged out unmercifully. Could heve beed done in one third of the time. Far too many scenes repeated and a lot of time wasted.

I am so conflicted. This gives such great information about Pirates. However, who decided that porn was needed. What the heck is happening with Netflix. A lot of kids would have benefited from the history. What a wasted opportunity. Its up to the viewers to show that graphic sex is not going to make them more money.

Interesting. Apparently the 2015-17 series, "Black Sails" was pretty accurate, since the story told in this documentary seemed to track with the story told there.

Sorta accurate. LOTS and LOTS of Netflix interpretation

The Lost Pirate Kingdom is an easy way to digest this period of history. I am not normally a fan of this sort of documentary but I did enjoy how entertaining this was.

If you like Pirates shows, And you watched BLACK SAILS you will thoroughly love the show.

Great docudrama, wish I had more to watch!

The acting was a bit dodgy at first but as the bad actors get Killed off it starts to get really good and the acting and storyline is wonderful. I was gutted when it ended. Should have been a movie.

This is woven together in a much more historically accurate way than the Disneyesque 'Pirates of the Caribbean' (an ongoing ad for their theme park) or the old swashbuckling sagas of Errol Flynn. But far from being a dry academic documentary, the commentators are both interesting and factual. The acting and action prove that fact is both more fantastic and interesting than anything anyone has made up. For example, one captain attacked and seized a much larger ship by having the African freed slaves stand on deck stark naked waving cutlasses. The ship's captain of the target ship had recently sold a full "cargo" of slaves, and was terrified of what consequences would befall him were he not to immediately surrender. He immediately surrendered. Far from being dull, the actors bring life to the facts, and most are ones I've never heard before. A real treat for fans of action and fact.
See Details