The Night Of: Miniseries
(2016)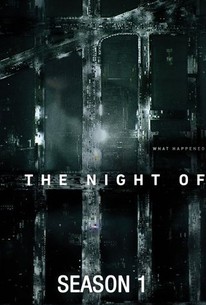 Rate And Review
The Night Of: Miniseries Photos
News & Interviews for The Night Of: Miniseries
Audience Reviews for The Night Of: Miniseries
Fantastic actors and perfectly filmed.

The main character is insanely, outrageously stupid. Nothing he does makes any sense so that makes this a bad show. Other than that it's good but I mean… how dumb can he be?!? I know dumb people like that exist but..

Riz Ahmed what a talented actor, the twists and turns, had me on the edge of my seat. Each and every time you think you've sussed out the plot–boom–you're wrong! This is a must watch.

The Night Of is instantly gripping and is fascinating throughout. It kept me guessing its finale until it actually happened. Its characters are well rounded, real, and none are outright heroes or villains. It is a fantastic use of 8 hours.

This series is for teenagers only. It is so predictable. A worn out storyline done better many times before. The guy in the cab is such a dummy. The HBO shows these days are all the same. Stupid people doing stupid things. No wonder the audience for the Emmy's keeps getting smaller.

Not worth the time it takes to finish. Unfulfilling ending. I was very disappointed I took the time to watch the entire thing. I wonder why they made the show due to the lack of tied ends or general message. It's just a story that doesn't really go anywhere.

The Night Of works so well because it foregoes the whodunnit concept and instead focuses on the lives of those impacted by a homicide case to an alarmingly intimate degree.

A+++ for acting, drama, dialogue, atmosphere, cinematography, tension, tone and setting, A- for everything else, including character development, directing, etc. A fantastic miniseries that's as unsettling and dark as it is tense, beautifully shot, and genuinely intriguing. Not the same old, same old. This is well written TV with a mean stomp.

A script writing masterclass. Perfect cast & this cinematography keeps you right there with them

It takes a while to get going. The first 2 episodes may lose viewers for how slowly it develops. But if you make it to episode 3, the mystery starts to envelop you.