From Where to Eternity
EPISODE: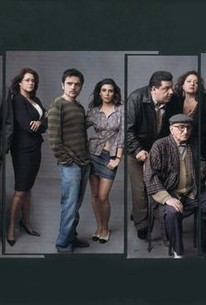 Episode Info
Series co-star Michael Imperioli, who also wrote the feature film Summer of Sam (1999), penned the script for this episode of the popular pay-television drama. Shot several times in the previous episode, Soprano family lieutenant Christopher Moltisanti (Imperioli) clings to life in a hospital and has an out-of-body experience that brings him into contact with his ghosts of his late father and a slain former associate, Mikey Palmice, in the afterlife. Shaken up by Christopher's account of his supernatural journey, Paulie Walnuts (Tony Sirico) visits a psychic, a priest, and even Palmice's widow, convinced he'll go to Hell when he dies. Mafia boss Tony Soprano (James Gandolfini) receives a tip regarding the whereabouts of Matt Bevilaqua (Lillo Brancato Jr.), one of the gunmen who shot Christopher, and pays Matt a lethal visit with Big Pussy (Vincent Pastore), who's forced to commit murder despite being a federal informant. Hearing about the illegitimate child borne by another mobster's mistress, Carmela (Edie Falco) urges her husband Tony to get a vasectomy, as she's aware of his affair with a Russian girl, Irina (Oksana Babiy). Tony insists the affair is over, but Carmela is highly skeptical. Janice (Aida Turturro) continues to pressure her boyfriend, Richie Aprile (David Proval), to move against her brother Tony. Tony blows up at his son, Anthony Jr. (Robert Iler), and then tries to rectify the situation by spending time with him. Tony also attempts to be a good husband; he tells Carmela he'll get a vasectomy, but she tells Tony she's changed her mind and may want another child. Dr. Melfi (Lorraine Bracco) confesses during a visit with her psychiatrist Dr. Kupferberg (Peter Bogdanovich) that she has made an unholy alliance with her notorious client and that she's becoming increasingly dependent upon alcohol and pills. "From Where to Eternity" first aired on March 12, 2000.
From Where to Eternity Photos
Discussion Forum
Discuss The Sopranos on our TV talk forum!