SEASON: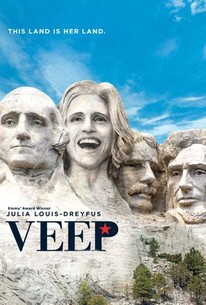 Rate And Review
Tv Season Info
The presidential ambitions of Vice President Selina Meyer (Julia Louis-Dreyfus) have never really gone away, it's just that the wannabe head of state can't stop putting her foot in her mouth or shooting it. Unfortunately, old habits die hard in Series 3 as Selina decides to throw her hat in the ring again, an announcement that renews the rivalry between Amy (Anna Chlumsky) and Dan (Reid Scott) to manage her campaign. Meanwhile, Mike (Matt Walsh) mixes business with pleasure; Gary (Tony Hale) suffers a physical setback that could threaten his job; and Jonah (Timothy Simons) tries to make a name for himself in the media. Later, as the race to primary season heats up, Selina relies on strategic advice from Ben (Kevin Dunn) and Kent (Gary Cole) to stay one step ahead of her opponents, including war hero Danny Chung (Randall Park) and former defense secretary George Maddox (Isiah Whitlock Jr.). With Sufe Bradshaw, Sarah Sutherland, Kathy Najimy, Christopher Meloni and Diedrich Bader.
News & Interviews for Veep: Season 3
Audience Reviews for Veep: Season 3
Much like it's leading lady, Veep is entering its swansong, with an impressive array of performances, a killer writing team and some of the best laughs on television —- Danny wa! Iroh's grade: B+

Almost went 4.5* this season....

HBO's foul-mouthed political satire continues to improve each season.

praticamente Veep alza l'asticella stagione dopo stagione. una comedy fantastica.

Why are`people watching this?

veep this bitches ya mutherfuckers

peroid/www.rottentomatoes.com/tv/veep/s03/#

Just gets better and better. Piss yourself funny.

VEEP season 3 peaked in its 8th episode. Sadly last 2 episodes were a let down. But a terrific season. Satire is subtle and jokes are refreshing.The plot of Ryantalogy was a brilliant addition. Every single member on this show was great.

My best discovery in 2014. Incredible show, smart and edgy. Julia is a comic genius.