Fashion of the Christ
EPISODE: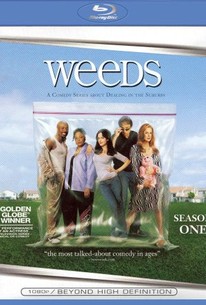 Episode Info
Nancy (Mary-Louise Parker) is awakened early one morning by the fire alarm, which heralds an unwelcome guest, her criminally irresponsible brother-in-law Andy (Justin Kirk). A master chef and world-class screw-up, Andy plans on staying around until he figures out his life. With Andy around, Nancy can't use her kitchen to cook up her pot goodies, so Heylia (Tonye Patano) hooks her up with the Candy Man (Jane Lynch of A Mighty Wind), who turns out to be a female fitness fanatic who won't sell Nancy any treats until she commits to an exercise program. Doug (Kevin Nealon), Nancy's accountant and best customer, brings her to an Indian restaurant that's going out of business, and suggests if Nancy wants to start a front bakery, this would be a good place to do it. Andy, meanwhile, gets Shane (Alexander Gould) in trouble at school selling misprinted "Chris died for your sins" T-shirts, and is also caught pretending to be Silas (Hunter Parrish) online and having cybersex with Silas' girlfriend, Megan (Shoshannah Stern). But when Andy visits his old buddy Conrad (Romany Malco), hoping to score some weed, he learns the truth about Nancy's post-widowhood enterprise, and uses the information to his advantage.
Fashion of the Christ Photos
Discussion Forum
Discuss Weeds on our TV talk forum!