When the Streetlights Go On
(2020)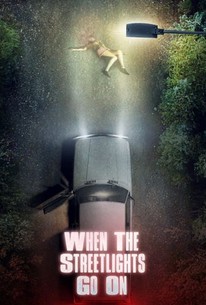 Rate And Review
When the Streetlights Go On: Season 1 Photos
Audience Reviews for When the Streetlights Go On: Season 1
This show was written and narrated as if it was one of the boys from the Virgin Suicides. Has some quirky moments, but the writing or the script was great. Ever narrated moment reminded of Virgin Suicides over and over. Very good thriller.

That was really well done. Great cast, the young actors really hold their own.

A good coming of age story with a great cast....hurt by weak resolution to its mystery

What a breath of fresh air. Yes we've seen it all before, but this kills continuity and that's the point ? Why should they give you what you want ? Invest in something, invest in this ? Boy, what an investment ! Loved it's originality. I want more.

Lame and predictable - like a 90s teen slasher movie without the thrills. Stock characters are nothing more than pieces on a board game not worth finishing. More of a "who cares?" than a "who-done-it". Even when you learn who the killer is, you don't care because it's played off as a side note and the writing gives you no clues in advance, so the revelation proves inconsequential. The only mystery is how the producers managed to get a few A-/B+ actors in for cameo roles.

Fantastic! What this show did in the ten 10 minute episodes is truly phenomenal. Whereas the murder mystery pulls in on the first episode, this series isn't really about a murder mystery, it is about teen romance, and more importantly, teenage perception. It is an ode to the girl next door from your childhood that could have been your future but was just on a different path. Take the show simply for what it is; a look back at a childhood love you could have once had, and maybe even deserved, but could never have just like the narrator or others couldn't.

The series started out great. But the final episode was so anticlimactic that it ruined the whole thing. A double murder mystery was solved in a matter of 3 second telling by the narrator.
See Details