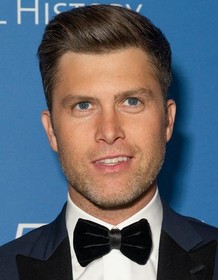 Colin Jost
Highest Rated: 46% How to Be Single (2016)
Lowest Rated: 31% Tom & Jerry (2021)
Birthday: Jun 29, 1982
Birthplace: Staten Island, New York, USA
As one of the youngest recruits in "Saturday Night Live" (NBC 1975-) history, Colin Jost was part of the new guard of writers to return the show to its former relevance and comedic glory when he joined the show in 2005. After nearly a decade of toiling behind the scenes and racking up Emmy nods and Writers Guild Awards, Jost became the third consecutive SNL head writer to anchor "Weekend Update," and made his small screen debut in early 2014. Colin Jost was born on June 29, 1982 in the Grymes Hill neighborhood of Staten Island, New York to Dan, a Staten Island Tech teacher and Kerry, the chief medical officer for the FDNY. But Colin wasn't the only funnyman in the family; his younger brother Casey would also go onto become a comedic actor and writer for the show "Impractical Jokers" (truTV 2011-). Jost's writing career trajectory started early. He worked for his local newspaper, the Staten Island Advance, as a teen correspondent during high school and later as a college intern from 2000-2001. Like many of his fellow SNL brethren, he came from Ivy League stock. After graduating from a private Jesuit prep school in Manhattan, he attended Harvard University, where he became a writer and eventually the president at student-published humor magazine the Harvard Lampoon during the early 2000s. Like the Upright Citizens Brigade and Chicago's Groundlings Theatre, the Lampoon had an even longer history of producing comedy greats such as Conan O'Brien. After graduating, Jost returned to the copy desk of his local newspaper and took a chance by submitting a few sketches to SNL for consideration. His cold call entry ended up scoring him an interview with then-head writer Tina Fey, and eventually a meeting with Lorne Michaels. In 2005, at the age of 22, Jost became one of the youngest writing recruits on the show. The time of his hiring also became instrumental to his career, when that year brought him a huge stable of talent to write for including Andy Samberg, Bill Hader, Kristen Wiig and Jason Sudeikis, who would all go on to become huge breakout stars of the show. During his 9-year stint on the writing staff, Jost won numerous accolades for his writing work including a Peabody Award, three Writers Guild of America Awards, and eight Emmy nominations. His due diligence paid off after he was promoted to head writer in 2012. While he only appeared on two sketches previously to his Weekend Update promotion, Jost was no stranger to performing. As a seasoned stand-up performer, he toured the country and made a name for himself appearing on "Late Night with Jimmy Fallon" (NBC 2009-2014) and "John Oliver's New York Stand-Up Show" (Comedy Central 2010-). In addition to cranking out jokes for late night, he kept his skills sharp writing columns for The New Yorker's Shouts and Murmurs section and New York Magazine. When the time came for someone to replace Weekend Update host Seth Meyers, who was leaving SNL for "Late Night with Seth Meyers" (NBC 2014- ), Jost was a natural choice, with his years of behind-the-scenes experience and camera-ready appearance. Jost joined new co-anchor Cecily Strong behind the Weekend Update desk on March 1, 2014. Strong, who had been a pivotal member of the cast before taking over the co-anchor role, returned to sketch work for the show's next season, replaced by Michael Che. The duo of Jost and Che soon fell into an easy chemistry, with Che's wiseguy charm playing off Jost's uptight preppy persona; their political jokes took on a new, edgier tone during the 2016 presidential election and the early months of the Donald Trump administration. During his time as Weekend Update anchor, Jost also wrote and co-starred in his first film, "Staten Island Summer" (2015). In 2018, Jost and Che brought their duo act to the stage as hosts of that year's Emmy Awards. The following year, Jost reached the gossip columns when he got engaged to Scarlett Johansson after two years of dating.
Photos
Colin Jost at arrivals for American Museum Of Natural History's 2016 Museum Gala, The American Museum of Natural History, New York, NY November 17, 2016. Photo By: Jason Smith/Everett Collection
HOW TO BE SINGLE, from left: Colin Jost, Alison Brie, 2016. ph: Jojo Whilden/© Warner Bros.
HOW TO BE SINGLE, from left: Colin Jost, Alison Brie, 2016. ph: Jojo Whilden/© Warner Bros.
cc: Stand-up, Colin Jost, ©CC