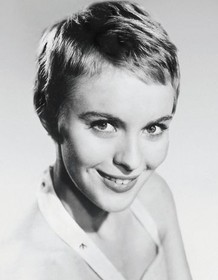 Jean Seberg
Highest Rated: 96% Breathless (1959)
Lowest Rated: 25% Saint Joan (1957)
Birthday: Nov 13, 1938
Birthplace: Marshalltown, Iowa, USA
Jean Seberg was a gamine, blonde actress who landed the title role in Otto Preminger's "Saint Joan" (1957) after a much-publicized contest involving some 18,000 hopefuls. She was best-known, however, for her contribution to New Wave cinema. The fresh-faced Iowan started acting in high school, but was a completely unknown 17-year-old when Preminger whisked her off to England. "Saint Joan" and its star were critically slammed, but Preminger went on to star her again in the soap opera "Bonjour Tristesse" (1958), which was scandalous and "modern" enough to buoy Seberg's career. After the silly but popular British comedy "The Mouse That Roared" (1959), Seberg was cast in Jean-Luc Godard's landmark New Wave feature "A Bout de souffle/Breathless" (1959), which brought her renewed international attention. As an American in Paris, selling papers on the streets and romancing wanted criminal Jean-Paul Belmondo, she gave a careless, modern and very hip performance. Seberg hopped back and forth from America to Europe, making a total of 30 films. In Mervyn LeRoy's "Moment to Moment" (1966), she was a professor's bored wife who drifts into an affair with murderous results. Seberg was another cheating wife in Irvin Kershner's "A Fine Madness" (also 1966) and played a woman sold to a hard-drinking prospector (Lee Marvin) in Joshua Logan's musical "Paint Your Wagon" (1969). Seberg was the passenger relations expert in the all-star blockbuster "Airport" (1970) and a woman going mad in Northern Africa in "Ondata di Calore/Dead of Summer" (1970). Her last feature was "Die Wildente/The Wild Duck" (1976), a German-language version of the Henrik Ibsen play. Seberg made her only US TV appearance in the ABC movie "Mousey" (1974), which co-starred Kirk Douglas and silent film veteran Bessie Love.
Photos
BONJOUR TRISTESSE, Jean Sebereg, Geoffrey Horne, 1958
LILITH, Jean Seberg, Warren Beatty, 1964
IN THE FRENCH STYLE, Jean Seberg, 1963
BONJOUR TRISTESSE, Jean Seberg, 1958
LILITH, Jean Seberg, 1964
MOMENT TO MOMENT, Jean Seberg, Honor Blackman, 1965
BIRDS IN PERU, Jean Seberg is directed by husband Romain Gary, on-set, 1968
SAINT JOAN, star Jean Seberg, left, with Fox West Coast chairman Elmer Rhoden, at promotional party for the film, 1957
BONJOUR TRISTESSE, Jean Seberg, Francoise Sagan and director Otto Preminger between scenes, 1958.
BONJOUR TRISTESSE, Jean Seberg, David Niven, 1958
BONJOUR TRISTESSE, Deborah Kerr, Jean Seberg, 1958
LILITH, Jean Seberg, 1964
SAINT JOAN, Jean Seberg, 1957
SAINT JOAN, Jean Seberg, 1957
SAINT JOAN, Jean Seberg, 1957
SAINT JOAN, Jean Seberg, 1957
SAINT JOAN, Richard Todd, Jean Seberg, 1957
PENDULUM, Jean Seberg,1969
PENDULUM, Jean Seberg,1969
PAINT YOUR WAGON, Jean Seberg, 1969