The Adventures of Robin Hood
(1938)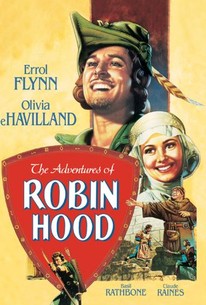 TOMATOMETER
AUDIENCE SCORE
Critic Consensus: Errol Flynn thrills as the legendary title character, and the film embodies the type of imaginative family adventure tailor-made for the silver screen.
Movie Info
In order to avoid the material copyrighted by Douglas Fairbanks Sr. for his 1922 Robin Hood, the scripters of this Flynn version relied on several legendary episodes that had never before been filmed, notably the battle between Robin and Little John (Alan Hale Sr., who played this part three times in his long career) and the "piggy-back" episode between Robin and Friar Tuck (Eugene Pallette). The film ties together the various ancient anecdotes with a storyline bounded by the capture in Austria of Richard the Lionheart (Ian Hunter) on one end and Richard's triumphant return to England on the other. Robin Hood is already an outlaw at the outset of the film, while Maid Marian (Olivia de Havilland) is initially part of the enemy camp, as one of Prince John's (Claude Rains) entourage. Marian warms up to Robin's fight against injustice (and to Robin himself), eventually becoming a trusted ally. James Cagney was originally announced for the role of Robin Hood, just before Cagney left Warner Bros. in a salary dispute. William Keighley was the original director, but he worked too slowly to suit the tight production schedule and was replaced by Michael Curtiz (both men receive screen credit). A lengthy opening jousting sequence was shot but removed from the final print; portions of this sequence show up as stock footage in the 1957 Warners film The Story of Mankind. The chestnut-colored Palomino horse ridden by de Havilland in the Sherwood Forest scenes later gained screen stardom as Roy Rogers' Trigger.
News & Interviews for The Adventures of Robin Hood
Critic Reviews for The Adventures of Robin Hood
Audience Reviews for The Adventures of Robin Hood
Robin Hood and his band of merry men fight the Sheriff of Nottingham. Campy and ridiculous, this film seems interchangeable with its parody, Mel Brooks's Robin Hood: Men in Tights. There's nothing new about the Robin Hood legend here except for the remarkable insouciance with which violence and poverty are treated. I'm sure that it's supposed to be light-hearted and funny, but I found myself rolling my eyes, and not a chuckle escaped my lips. Overall, this film is a lackadaisical piece of shit.
Jim Hunter
Super Reviewer
The greatest Flynn swashbuckler?? yes. Its got the lot, a princess, sword fights, dashing heroes, evil baddies, great huge battles and a soppy happy ending. The whole thing looks gorgeous, the colour like all oldies is gorgeous in Technicolour and the cast, again, like all oldies is perfect. Rains, Rathbone, Knowles, Hale, Havilland, Pallette etc...its pure gold in every sense and deserves to be remembered forever. I Love the costumes and their bright vivid designs and crests, the excellent matte paintings used for Nottingham Castle and with dare devil stuns without the use of CGI nonsense this is the best Robin Hood flick made period. Of course the whole film is based on the Robin Hood fable which in turn is rather debatable, and naturally Hollywood makes the most of this by really boosting the artistic license factor. Every character and location is as you would expect, cliched to the max really, taking the historic legend and virtually making it into a cartoonish fantasy. But you can't look into this too much, this is a very old film which has influenced pretty much all 'Hood' adventures ever since, influenced itself by the classic black n white Fairbanks film. These films were made in simpler times. The archery tournament also highlights more of the grand lavish scale that was shown in production/craftsmanship, its a rainbow of colours and beautiful designs in every field from the Norman troops to the fair ladies in the background, its all perfect. Lets not forget Howard Hill and his amazing arrow shooting talents hehe they actually did shoot the actors in this film. Hill had to hit a precise spot on the actor, any other spot and there would be a serious injury to deal with! can you imagine that happening today!. Warner Bros were THE studio of the time and they knew how to make a rollocking good sweeping action epic, plus they had the men to direct them to, Curtiz being the best of the best for constant hits. The recent Bluray enchances this to beyond greatness, stunning!, probably Errol's most noted and most recognised work, maybe not the best in terms of his acting but its a legend of a movie that all ages can't fail to enjoy.
Phil Hubbs
Super Reviewer
½
The acting may be camp but the legend is forever. Full review later.
Thomas Bowler
Super Reviewer
The Adventures of Robin Hood Quotes
| | |
| --- | --- |
| Maid Marian: | Why, you speak treason! |
| Robin Hood: | Fluently. |
| | |
| --- | --- |
| Will Scarlett: | Robin, I've just got word of- [sees Friar Tuck and breaks off] |
| Robin Hood: | It's all right, he's one of us. |
| Will Scarlett: | One of us? He looks like three of us! |
Discussion Forum
Discuss The Adventures of Robin Hood on our Movie forum!