Fantastic Four
(1994)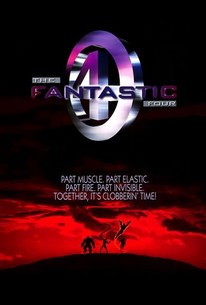 Movie Info
Unreleased to the general public and infamous for its poor quality within geek circles, this Roger Corman adaptation of the Marvel Comics supergroup is an interesting cult item that ranks up there with the dismal Captain America feature and the cheap Hulk TV movies. The story of the film goes back to the late '80s when Marvel Comics were licensing out their characters for mild profit in a time when the comic industry was failing. Enter a German company called Neue Constantin and producer Bernd Eichinger, who held the rights for almost four years before their contract was about to run out. In order to retain the rights to future remake/options and get out of paying a five-million-dollar fee, Neue were forced to put something to film, so they made a deal with Roger Corman's New Horizons studio to make the film quick and on the cheap for $1.5 million. Once the film was finished, Eichinger bought out Corman's interest, then turned around and sold it to 20th Century Fox, who were then prepping a $50 million adaptation with director Chris Columbus. The film then dove into virtual obscurity, save for the comic convention bootlegs and later through the internet. The storyline follows the basic framework of the comic, with the exception of a few minor details, including the introduction of a new villain, The Jeweler, who directly becomes responsible for the team's mishap in space and takes liberally from another one of the comic's famous villains, The Mole Man. In reference to its underground popularity, Corman now regards it as his most profitable film that never saw release, while Marvel president Avi Arad reportedly burned Fox's only print.
News & Interviews for Fantastic Four
Critic Reviews for Fantastic Four
Audience Reviews for Fantastic Four
While changing Stan Lee's original story somewhat (and not finding the heart and soul of it either) still this is better than what followed. I'd never heard of it before or even that it was out there, yet the idea of the comic is still inherent and nearly carries the piece through it's cumbersome bad qualities.
Kevin M. Williams
Super Reviewer
½
This unreleased 1994 version of the Fantastic Four may be known as one of the worst superhero films of all time to some, but to me, without it's horribly low budget bringing it's values down, this film actually has a very competent story that feels better in a way than some of today's superhero films. Mind you, that does not make it good. As these four people are exposed to gamma radiation in space, it gives them super-human abilities and leads to the war between the Fantastic Four and Doctor Doom. The effects are some of the worst you will ever see, but they try with what they have, so that is commendable. The cast is laughably bad at times, but that is also due to it's very poorly written screenplay. I will say that out of all the bad Marvel films I have seen, this is one of those so bad it's good films that I can watch over and over again. So in the end, it's not a terrible movie, but it needs work, and that aspect is very enjoyable.
A marvelous curiosity of a film. Never intended for release, this was made to stop the rights from expiring. It's cheap, it's shoddy but it IS entertaining. The effects are amazingly bad, though should be commended given the circumstances. When the Human Torch is some bizarre animated, possibly computerish orange thingy, you can see that the filmmakers did the best with what they had. The "stretching" sequences are so painful, though always bring a smile. The Thing actually looks pretty good, shame he can't move about much. One thing the film does have going for it it a decent Dr Doom. Unlike the bastardised version in the 00's versions. Had we had this Dr Doom in those they would almost be perfect. It was an easy watch and never boring. This truly is a Roger Corman production and actually makes you wonder about if Corman took on other super-hero tales. This is a wonderful antidote to the crowded market place of today and a reminder that once Super-Hero movies were virtually impossible. It's not the multimillion dollar box office, it's the taking part.
Luke Baldock
Super Reviewer
Fantastic Four Quotes
There are no approved quotes yet for this movie.