Day of the Dead
(2008)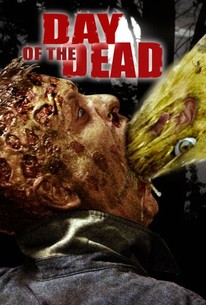 Movie Info
Ving Rhames, Nick Cannon, and Mena Suvari star in director Steve Miner (Friday the 13th Part II, Halloween: H20)'s remake of the apocalyptic gore-fest that originally concluded George A. Romero's zombie trilogy back in 1985. A small American town has been infected with a deadly virus, and the military is determined to contain the sickness by establishing quarantine. When the situation spirals out of control and the infected residents develop a taste for human flesh, the military and surviving residents must band together to battle an enemy whose goal is not simply to kill, but to consume as well.
Critic Reviews for Day of the Dead
Audience Reviews for Day of the Dead
½
Nick Cannon very nearly saves this government-conspiracy-makes-people-zombies effort all by his lonesome. Nearly. But in the end ... no.
Kevin M. Williams
Super Reviewer
Here is what happens when a third-rate director remakes a George Romero zombie film: he subtracts any social-political subtext and throws in cheap scares, stupid dialogue, cute but lame actors and, worse, a vegetarian zombie in love.
Carlos Magalhães
Super Reviewer
½
The remake of Day of the Dead is one of those films that just don't cut it. This is a poorly constructed film that is a mess from start to finish. Helmed by veteran horror director Steve Miner, Day of the Dead is a boring, awful film with no redeeming qualities. People have told me to avoid this film, now after seeing it, I understand why. Poorly acted and poorly directed, this remake is horrible and is a slap in the face of the original film. The cast deliver poor performances and quite frankly are miscast in their parts. As far as this remake is concerned, it suffers the same fate as others, and it doesn't live up to the original. Steve Miner is a capable horror director, but with Day of the Dead, he fails to deliver something watchable. The film is clumsy, silly and stupid. There are no redeeming factors within the film. Day of the Dead just belongs on the very long list of remakes that fail to match up to the original in every respect. If you're looking for a good zombie flick, you won't find it here. This is an awful remake of a classic film, one that is so poorly conceived that it's not even worth checking for the sake of seeing how bad it is. The horror factor is absent, and the film relies on a good dose of blood and gore, which ultimately doesn't pay off. This film fails to deliver what horror fans really want. Stick with the original, as this plays out like every other remake, and it makes you appreciate the original film that much more.
Day of the Dead Quotes
There are no approved quotes yet for this movie.