Made for Each Other
(2009)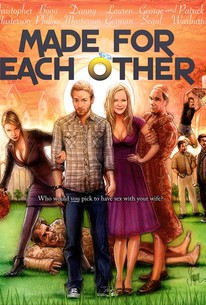 AUDIENCE SCORE
Critic Consensus: No consensus yet.
Made for Each Other Videos
Made for Each Other Photos
Movie Info
Frustrated at being stuck in a sexless marriage, a man gets seduced by his boss and attempts to even the playing field by getting his wife to cheat on him. Dan (Christopher Masterson) has a problem; he's just married the beautiful Marcie (Bijou Phillips) for three months, but they still haven't consummated their union. When Dan's sex-crazed boss Catherine (Lauren German) comes on to him during a marathon work session, he crumbles under temptation. Immediately regretting his actions but unable to simply admit his indiscretion, Dan schemes with his best pal Mike (Samm Levine) to get Marcie to wander astray, too. If Dan isn't the only one who cheated, he and Mike surmise, then Marcie can't be mad at him for doing so. But hatching the plan is one thing, and finding a guy who's willing to go along with his plan is an altogether different challenge. Later, as the plan finally starts to come together, Dan discovers the truth about why Marcie has yet to sleep with him, and comes to realize that they may actually be the perfect couple after all. ~ Jason Buchanan, Rovi
Critic Reviews for Made for Each Other
All Critics (3) | Top Critics (1) | Fresh (1) | Rotten (2)
Made for Each Other is often wryly hilarious, completely overboard and unpredictable.


Ozus' World Movie Reviews
The picture isn't offensive, just frustratingly fruitless, consumed with the obvious when the unpredictable makes for more exciting cinema. Made for Each Other misfires, but there's promise in there somewhere.

Audience Reviews for Made for Each Other
A newlywed who is seduced by his boss tries to arrange an affair for his wife to assuage his guilt. Maybe I just added this film to my queue because of my attraction to Bijou Phillips, or maybe I found the premise interesting, but the simple fact of the matter is that watching this movie was a regrettable mistake. It is bad, bad, bad. None of the jokes has any originality, and not a single broad bit works. The characterizations are inconsistent (why does Catherine sometimes have a German accent while her sister is as American as apple pie), and the plot is as tired as I was after five minutes of this stinky, festering abortion of a film. It isn't sexy, it isn't funny, and it isn't worth the celluloid wasted to make it ... although there is a Bijou Phillips side boob moment. Overall, I want my life back.
Jim Hunter
Super Reviewer
I watched this solely because I really like the Masterson brothers. I didn't expect it to be anything less than absolutely stupid, and it didn't let me down. I guess if raunchy comedy and bad acting is your thing, you might enjoy this. Otherwise, it's really not worth watching. It's every other crass comedy I've ever seen, with some of the worst acting I've ever had to sit through.
Amanda Hendsbee
½
The trailer for the movie looked good, but the movie has a laundry list of things wrong with it. It at times go so over the top that I feels like I am watching a Waynes Brother movie. It takes you out of the movie and ruins the story even if you like goofy humor.
Jeff Heruth
Made for Each Other Quotes
There are no approved quotes yet for this movie.
Discussion Forum
Discuss Made for Each Other on our Movie forum!