The Long, Hot Summer
(1958)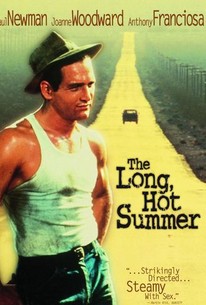 The Long, Hot Summer Photos
Movie Info
While often regarded as one of America's greatest novelists, William Faulkner produced work that did not always translate well to the screen; it's ironically appropriate that this movie, based on several of Faulkner's short stories, is often regarded as one of the best films based on his work, though not especially accurate to the original source material. Ben Quick (Paul Newman), a sullen but self-confident drifter, arrives in a small Mississippi town where his father had a bad reputation as a firebug. Will Varner (Orson Welles), the town's patriarch, still holds a grudge against Quick's dad, and when the young man decides to stay in town and sharecrop on Varner's land, Will goes out of his way to make his life difficult. However, Will develops a grudging respect for Quick's guts and determination, and he wishes that his weak-willed son Jody (Anthony Franciosa) could be more like him; Jody's wife Eula (Lee Remick) happens to agree. In time, Will gets the idea that Quick might be a good match for his daughter Clara (Joanne Woodward) and a better choice to take over his business dealings than Jody. However, neither Clara nor Quick care to be told what to do, and besides, Clara already has a beau -- though Alan Stewart (Richard Anderson) is even more of a milquetoast than Jody and is led by the nose by his mother (Mabel Albertson). However, sparks begin to fly between Clara and Quick, and when Jody fears he may lose his place as heir of Will's estate, he takes drastic action, trapping his father in a barn, setting it on fire, and planting evidence that would suggest that the blaze was Quick's doing. The Long, Hot Summer was the first film that Newman and Woodward made together, and they got married the same year. ~ Mark Deming, Rovi
Critic Reviews for The Long, Hot Summer
Audience Reviews for The Long, Hot Summer
½
Was hoping for the same magic that Ritt and Newman conjured up with the absolutely stellar "Hud." Instead, I got a fairly dry love story and a couple hours of Orson Welles mercilessly chewing the scenery.
½
A small town down south in Mississippi and a bit o'nothing of a man runs into a bit o'nothing of a family, newly well to do: can they rise above their collective class status (redneck) and not kill each other, even learn to love one another? But now I've gone and given away everything. The traveling loner looking for a break is Newman, Big Daddy is Welles (chewing everything in sight), while Woodward, Remick and Lansbury perfect their sugary eye flutters. Fans of the stars will enjoy.
Kevin M. Williams
Super Reviewer
It's funny that this is an adaptation of William Faulkner because it feels way more like a Tennessee Williams adaptation with all of the same quirks and characters. However, there is considerably less drinking in this so it definitely can't be something connected to Tennessee Williams. There is so much color in this that it is almost hard to fathom at times, being reminiscent of Gone with the Wind in that respect. Paul Newman conquers the screen as Ben Quick. Theoretically you should hate him and what he stands for, but Paul Newman plays him so charming and flawless that you end up loving the guy. Joanne Woodward also gives a great performance and it's one of her best characters next to Carol in The Fugitive Kind. I think everyone can acknowledge that Orson Welles hammed his character up to no end, but failed to steal the show.
Conner Rainwater
Super Reviewer
The Long, Hot Summer Quotes
There are no approved quotes yet for this movie.