Mister Roberts
(1955)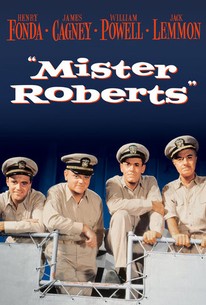 Movie Info
Based on a novel by Thomas Heggen and previously a successful Broadway play, this film boasts an all-star cast giving an all-star performance. The prequel to Ensign Pulver, a short-term TV series and a TV special, it is a humorous WW II story of a crew with cabin fever. With a commanding officer who is slightly off the wall to begin with, when the crew of the South Pacific cargo freighter decide to alleviate their boredom with practical jokes, usually at their captain's expense, tit for tat becomes the watchword as the captain decides to get even. The secondary story line revolves around the ship's cargo officer, Mr. Roberts, who wants to see some action and so must be transferred off the cargo vessel.
Critic Reviews for Mister Roberts
Audience Reviews for Mister Roberts
One of the most delightful of war "comedies' Mister Roberts provides a good starring role for Henry Fonda and puts him toe to toe with legendary James Cagney. Throw in Jack Lemmon and William Powell and you have the recipe for something special which is delivered most effectively.
John Ballantine
Super Reviewer
½
Mister Roberts is yet another testament to the legend and greatness of Henry Fonda. John Ford's (half) direction (Mervyn LeRoy took over after Ford went batshit drunk) offered some of the greatest shots this side of Monument Valley. James Cagney also turns in a great performance if you can handle him playing a total asshole and his scenes with Fonda are great also. A young Jack Lemmon also does a great job as does William Powell in his final screen role. Mister Roberts is also full of great characters even if the story doesn't really go anywhere unexpected or far. The scene where Lemmon read that last letter pissed me off in ways any human language can never hope to describe but that final scene kind of turned it around.
Michael Gildea
Super Reviewer
Ken Stachnik
Super Reviewer
Mister Roberts Quotes
| | |
| --- | --- |
| Ens. Frank Thurlowe Pulver: | Captain, it is I, Ensign Pulver, and I just threw your stinking palm tree overboard. Now, what's all this crud about no movie tonight? |