Pit and the Pendulum (The Pit and the Pendulum)
(1961)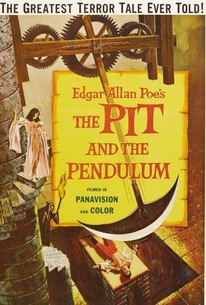 Pit and the Pendulum (The Pit and the Pendulum) Photos
Movie Info
American-International's standing "haunted castle" set is exhibited to peak advantage in Roger Corman's Pit & the Pendulum. Save for the climax, Richard Matheson's script bears but little resemblance to the Edgar Allen Poe original, though there are pronounced echoes throughout of Poe's The Premature Burial. Vincent Price stars as Nicholas Medina, the son of a notorious Spanish Inquisition torturer. Nicholas' wife Elizabeth (Barbara Steele) has died under mysterious circumstances, prompting Elizabeth's brother Francis (John Kerr) to arrive at the Medina castle to investigate. The tormented Medina believes that Elizabeth was buried alive, and is convinced that he can hear his wife's voice calling out to him. In truth, Elizabeth has faked her death, part of a plan concocted with her lover Dr. Leon (Anthony Carbone) to drive Medina mad. She succeeds in this goal (albeit to her own grief, as the film's very last shot reveals), pushing Medina over the brink. Convinced that he's his own father, Medina dons Inquisition robes, straps Francis to a table, and arranges for a huge steel-bladed pendulum to slowly, slooooowwly descend on his helpless victim. You'd never know that Pit & The Pendulum was shot on the budget and schedule of a B western; the film is consistently good to look at, with eerily evocative color camerawork (Floyd Crosby) and sumptuous art direction. Stock footage of the climactic torture sequence would later find its way into the 1966 spy spoof Dr. Goldfoot and the Bikini Machine, which also starred Vincent Price.
Critic Reviews for Pit and the Pendulum (The Pit and the Pendulum)
Audience Reviews for Pit and the Pendulum (The Pit and the Pendulum)
½
A very inspired adaptation that strays completely from Poe's story - in fact, it is hard to see why it is said to be an adaptation in the first place -, and Corman builds a tense atmosphere with a firm direction, a fine art direction and Price's magnetic performance.
Carlos Magalhães
Super Reviewer
Roger Corman directs this adaptation of Edgar Allan Poe's short story with effective thrills and shocks to make this a stunning, well constructed horror film that is a surprising classic that deserves to be seen by fans of the genre. The film relies on atmosphere and the performance of Vincent Price to create its terror, and what we get here is a well crafted low budget film that keeps you involved from start to finish. The film has a gothic tone to it, which is standard for films of the era, and it only adds so much to the picture. The cast do a fine job here, and each brings something to the screen to really make this a standout feature among Corman fans. Horror should be about tone, and atmosphere, and Roger Corman clearly understands that, and the result is a masterful adaptation of a classic literary work. In terms of horror, The Pit and the Pendulum is a fine example of how it's done correctly. I really enjoyed the film and I think that it's one of those movies that needs to be rediscovered by viewers that enjoy great horror. The film has an engaging performance by horror icon Vincent Price, which makes this one stand out among other horror classics. For those who've enjoyed Edgar Allan Poe's writings, this is a worthy film to watch. The cast are great, and the pacing itself works well to set up to a riveting and trilling climax. Roger Corman has made a fine horror film that delivers effective chills throughout and it is a fine early work, from a director who would have significant impact on cinema. If you come across this film, give it a shot, you're sure to enjoy it if you love old school horror films, and with Vincent Price starring in it, you know it's going to be worth your time.
½
Vincent Price is as magnetic as always (enough to counter John Kerr's terribly nonchalant performance) and the film revels in tense atmosphere. The pacing is a bit un-even at times but the last twenty minutes are so intense that it makes the waiting worthwhile. Another solid Corman Poe adaptation.
Christopher Heim
Super Reviewer
Pit and the Pendulum (The Pit and the Pendulum) Quotes