Pollyanna
(1960)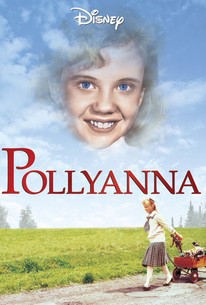 Movie Info
Young Pollyanna (Hayley Mills) is a 12 year old orphan girl sent to live with her Aunt Polly (Jane Wyman) in the picturesque New England town of Harrington. She meets fellow orphan Jimmy Bean (Kevin Corcoran) and the two quickly become friends. Pollyanna plays "the glad game" in which she always looks for something to be glad about. Her infectious enthusiasm soon spreads across the conservative town. When the two visit Mrs. Snow (Agnes Moorhead) , the woman is transformed from an agoraphobic hypochondriac to an outgoing church goer. The Reverend Ford ( Karl Malden) is changed from an aloof hellfire and brimstone prophet of doom to a congregation friendly soul espousing the joys of the Bible. Even the hermit-like Mr. Pedergast (Adolphe Menjou) takes a shine to sunny Pollyanna and eventually adopts young Jimmy. She plays Cupid for her prim and proper Aunt Polly, matching her with the local doctor and saving her from the life of a spinster. Pollyanna falls from a tree and loses the use of her legs and falls into depression. The doctor plans for her to have an operation in Baltimore, but fears her state of mind will prevent a full recovery. When the people of Harrington hear about the accident, they congregate at the young girl's house to give back the hope and optimism Pollyanna had brought to them. This Walt Disney production was Adolphe Menjou's last film.
News & Interviews for Pollyanna
Critic Reviews for Pollyanna
Audience Reviews for Pollyanna
I'm sure some people love this film, but I can't stand it. I hate absolutely everything about it. I hate the story, the characters, the music, and I especially hate Pollyanna. Whenever this film is on TV, I change the channel as fast as possible.
Stephen Skudlarek
Super Reviewer
½
Sickeningly sweet and a tad overlong, Pollyanna is a different kind of Disney live action movie. Whereas Old Yeller dealt with "adult themes" of death and 20,000 Leagues Under the Sea is an action film, Pollyanna wants the audience to believe there are idealic communities where one person can change everyone's attitude at the same time. Hayley Mills is relentlessly upbeat-until the finale, and the dour attitude goes away in the blink of an eye. The characters change because the script demands it, not because its organic over time. Each of the crusty townspeople gets a moment to show why they're deplorable on their ultimate way to redemption-I can almost see chapters in a book devoted to their stories before the overall story moves on. Even though Pollyanna is likely to give you a toothache from all the sugary sweetness, Mills and the cast eventually win you over. It's very hard to hate a little girl who is always smiling and trying to bring light into other people's lives.
Jason Vargo
Super Reviewer
½
Hayley Mills warms your heart and the upbeat optimistic preacher's daughter.
Sunil Jawahir
Super Reviewer
Pollyanna Quotes
| | |
| --- | --- |
| Mrs. Snow: | And that doctor, all he gives you is pills. Just pills and bills, just pills and bills, that's all! |
| | |
| --- | --- |
| Pollyanna: | Of all the stupid little juvenile tricks! You mean to tell me you brought me all the way up here to see a crummy old... a crummy old tree?! |
| Pollyanna: | Of all the stupid little juvenile tricks! You mean to tell me you brought me all the way up here to see a crummy old... a crummy old tree? |
| | |
| --- | --- |
| Pollyanna: | Well, I suppose I could be glad because... |
| Nancy Furman: | Yes, go ahead, darling. |
| Pollyanna: | No! It was a silly game! I hate it! I'll never want to play it again! Leave me alone! |
| | |
| --- | --- |
| Mrs. Amelia Tarbell: | [Ben opens the car door] I am not going to budge. |
| Ben Tarbell: | [looks over his shoulder] I have had just about enough of your nonsense! You're going to join in with the others and make this into a town, not a dynasty. Get down out of that car, Amelia, I'm warning you! Move! [She gets out of the car] |