Porky's
(1982)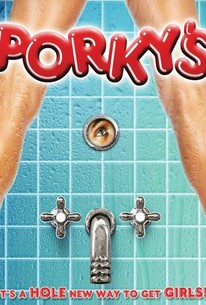 Movie Info
Love it or loathe it (and there are a goodly number of people on either side), Porky's was one of the most successful comedies of its day, spawning two direct sequels and inspiring an incalculable number of lowbrow teen comedies, most recently including American Pie (1999). Pee Wee (Dan Monahan), Billy (Mark Herrier), Tommy (Wyatt Knight), and Mickey (Roger Wilson) are four painfully horny high school kids growing up in South Florida in the 1950's. Desperate to rid themselves of their cumbersome virginity, they head out to a sleazy bar near the swamps called Porky's, where local legend has it that the owner will fix you up with a prostitute for a reasonable fee. After Porky takes their money and dumps them in the swamp, the guys vow to get revenge. Meanwhile, Pee Wee has to deal with his shrinking penis, someone drills a hole in the wall of the girl's shower, the guys encounter a prostitute named Cherry Forever, and anti-Semitism rears its ugly head. Cheerfully rude in a manner few mainstream films had achieved at that time, Porky's, for better or worse, changed the standard of what was acceptable in a screen comedy. Remarkably enough, two years later director Bob Clark made the holiday favorite A Christmas Story, which displayed his considerable range, if nothing else.
People Who Like this movie also like
News & Interviews for Porky's
Critic Reviews for Porky's
Audience Reviews for Porky's
Porky's is one of those 80's teen comedies that received so much negative press upon initial release. Although far from perfect, there is a certain enjoyable quality about the film that makes it fun to watch. Directed by Bob Clark, who also directed Black Christmas, Porky's is an underrated comedic gem that is surprisingly very funny. The film would later have influence on many of the teen comedy films of the late 90's and you can clearly see why. Although far from perfect, Porky's is far better than what most critics have said about it, and it doesn't deserve all the flack it has received. The cast are enjoyable in their parts, and Bob Clark does a fine job with his material to make something amusing for the audience. Watching this film, it's hard to imagine that such a film ever caused a stir among critics, as there has been far more vulgar Teen comedy films that has been released since. At times the film is uneven, luckily there is enough gags to keep you interested. There are things that could have been done better in a few areas, but overall, this is a good comedy worth seeing if you want to see an underrated teen comedy that is much better than what most people would claim it to be. There are scenes in the film that are very funny and quite memorable, and some of the characters are quite likeable as well. I feel that this is a much underrated film that deserves to be rediscovered and appreciate as a good teen comedy that simply is a harmless, fun yarn that will probably make you smile.
½
A fun 80s sex comedy mixed with a fifties teen movie. It's interesting, mostly funny, and entertaining. But on the other hand there are a bunch of stupid jokes and I didn't like the ending, it was ridiculous. Overall, it's pretty good, but it could have been better.
"I've never seen such wool, you could knit a sweater." Set in 1954, a group of Florida high schoolers seek out to lose their virginity which leads them to seek revenge on a sleazy nightclub owner and his redneck sheriff brother for harassing them.
REVIEW
Grubby but mildly entertaining comedy whose audience is most likely to be its own characters, a crowd of horny teenagers whose quest to get laid leads them to the strip club of the title and kicks off a feud with its owner. They're not a particularly likable bunch, but the fun they have rubs off; their constant laughter is infectious, particularly during the scene in which the girls' gym coach tries to explain her plan to identify a student by his 'tallywhacker' while a bunch of guys in the background crap their pants laughing. Actual gags are thin on the ground, as are decent performances, although a couple sneak in amidst the slimy tone and gratingly juvenile humour. Best viewed before you're old enough to get your hands on real porn.
Lorenzo von Matterhorn
Super Reviewer
Porky's Quotes
| | |
| --- | --- |
| Mindy: | Why do they call you 'Meat'? |
| Meat: | Come on in the bushes and I'll show ya. |
| | |
| --- | --- |
| Billy: | Pee Wee, I want to make mad, passionate love to you. And Meat. How about a threesome? |
| | |
| --- | --- |
| Wendy: | Is Mike Hunt here? Has anyone seen Mike Hunt? |
| | |
| --- | --- |
| Cherry Forever: | This boy is deformed! |