Revenge
(1990)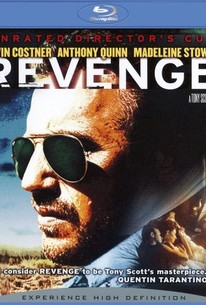 Movie Info
Kevin Costner plays an ex-pilot who visits the posh Mexican estate of an old associate (Anthony Quinn) "Tibey" Mendes, for a bit of R & R. Tibey has turned into a very powerful Godfather type who rules his world and those who touch it. Costner can't help but notice his old friend's incredibly beautiful young wife (Madeleine Stowe) and before long they're involved in some sizzling hoochie-coo at the risk of being discovered by Mendes. Mendes eventually catches on and exacts a painful and cruel punishment on the reclusive lovers caught in their lustful liaison. Costner vows a pay-back and the last part of the movie involves his attempt to achieve it.
Critic Reviews for Revenge
Audience Reviews for Revenge
Remember this star vehicle from 1990? No? Well the reason why, except for the high production values and the star power, is because it plays like a Youtube vid making fun of movies like this played straight, the unbelievable happening at every turn. Sleep with a mob boss' beautiful wife? What could go wrong with that? Isn't there a rerun of Ice Road Truckers on the History channel instead?
Kevin M. Williams
Super Reviewer
Apparently, there is no law enforcement in Mexico. or thats what this movie wants me to believe.
Coxxie Mild Sauce
Super Reviewer
A tragic love story with an unexpected ending for me. I know many find Costner a little cheesy, but I happen to find he has been in some really good films, this one included. All in all a pretty decent film.
Lady D'arbanville
Super Reviewer
Revenge Quotes
There are no approved quotes yet for this movie.