Tempest
(1982)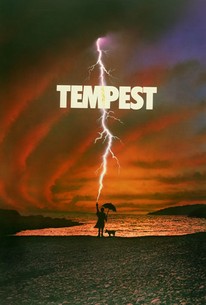 Movie Info
This comedy is set upon a remote Greek island and is very loosely based on Shakespeare's classic play. The tale centers on a middle-aged New York architect who abandons his wife and moves to the island with his teen-age daughter and his new lover, a Greek singer, in hopes of finding meaning in his life. The only resident of the island is an old hermit, and the father is finally happy until his wife, her lover, his son and others get in a shipwreck and end up marooned on the island with him.
Critic Reviews for Tempest
All Critics (8) | Top Critics (1) | Fresh (5) | Rotten (3) | DVD (3)
The movie is an ambitious experiment, but a long and tedious one, and our revels end long before Mazursky's.

Tempest scores a few points in its treatment of the illusion of solving one's problems by running away from them.
Audience Reviews for Tempest
½
A bourgeois, middle-aged New Yorker moves to a Greek island with his daughter to escape the pitfalls of a tepid marriage and the rat wheel of his work. I think the moment that I began to hate Tempest was when Molly Ringwald and Susan Sarandon broke into a rendition of "Why Do Fools Fall in Love?" The song occurs in the middle of a serious argument in which both women are accusing Phillip of enslaving them -- a heavy accusation. While I am all for experimentation, it was director Paul Mazursky's unwillingness or inability to treat any of his characters or their situations with sobriety that finally turned me off of the film. Tempest's relationship with Shakespeare's play is tenuous. Many of the names are similar, but Shakespeare's play is about old age and aging with grace. It was Shakespeare's last play, his swan song, his goodbye to life in the theater because after all, "we are such things as dreams are made on." It's true that Phillip is dealing with the fears of aging, but nothing profound comes out of his disavowal of modern life. The supporting characters are where the film really differs from the play. Kalibanos (nee Caliban) is a horny Greek (Latin?) who is still connected to modernity (unlike his play counterpart). I don't know if Aretha is supposed to be Ariel, but the sexual tension confuses this parallel. Overall, this film isn't just a bad rendition of Shakespeare, it's just a bad film.
Jim Hunter
Super Reviewer
When you make a movie have a point and thats what this movie was lacking. Paid three dollars for this at Big Lots and that was $2.99 to much. 1 star
Bruce Bruce
Super Reviewer
A meandering tale of a family who go live out in the middle of nowhere to get away from it all. This movie has a good cast, but I just couldn't get into it.
Tempest Quotes
There are no approved quotes yet for this movie.