That Championship Season
(1982)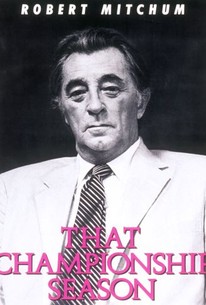 That Championship Season Photos
Movie Info
Adapted from Jason Miller's play which won the Pulitzer Prize, That Championship Season is about a group of men who, after 25 years, get together again for a high-school basketball team reunion. After drinking and chumming, the circle of friends soon find long-hidden anger and resentment resurfacing which become muddled with their current mid-life problems. Soon their long-time friendships are collapsing before them. Performers in this drama include Martin Sheen, Paul Sorvino, Robert Mitchum, Bruce Dern and Stacy Keach.
Critic Reviews for That Championship Season
Audience Reviews for That Championship Season
I was so completely bored when I saw this on TV, it wasn't entertaining or fun or anything. It does have a good cast of older actors you'll recognize, but it's not worth watching just to see them either.
½
(1982 Director: Jason Miller) Robert Mitchem is surprisingly given lowbilling on this incredible study of a family with 3 sons--all in the political arena. The setting is tye year 1957 when corrupt(?) encumbent mayor (Bruce Dern) is up for reelection. Papa of the litter is none other than Robert Mitchem who has raised them in the Jesuit eudcation. Great performances from eveyone! tHIS MOVIE WAS BASED ON THE PLAY...Here is a little trivia for you FELLOW BRUCE DERN FANS (WHO MIGHT REMEMBER BRUCE IN HIS ROLE IN "SILENT RUNNING") TRIVIA: Tom Hanks, Bruce Dern, Carrie Fisher, and Corey Feldman star in what 1989 black comedy?.CAST: Bruce Dern, Stacy Keach, Robert Mitchum, Martin Sheen, Paul Sorvino, Arthur Franz, Michael Bernosky, Joseph Kelly, James M. Langan, Tony Santaniello, William G. McAndrew, Barry Weiner, Edward Cunningham, Robert E. Schlesinger, George Lowry, Jim Sparkman
That Championship Season Quotes
There are no approved quotes yet for this movie.