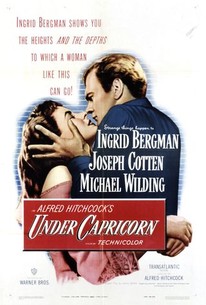 Under Capricorn
1949, Drama, 1h 57m
17 Reviews
1,000+ Ratings
Where to watch
Rent/buy
Rent/buy
Rent/buy
Rate And Review
Movie Info
A lady (Ingrid Bergman) marries an upstart (Joseph Cotten) and turns alcoholic in 1830s Australia.
Audience Reviews for Under Capricorn
A melodrama with a few beautiful moments and interesting characters. Also, some nice long shots allow the performances to shine. It does not, however, has a clear focus and that makes it suffer a bit.

Um dos filmes mais incomuns de Hitchcock por não se tratar de um suspense tradicional e sim um drama de época. Infelizmente, também é uma de suas produções menos atraentes. Baseado em um romance escrito por Helen Simpson, a história se desenrola na Austrália colonial de 1831. Em uma atuação que traz ecos de seu papel oscarizado em À Meia Luz, Ingrid Bergman é Lady Henrietta, a perturbada e alcoolizada esposa de um próspero ex-condenado irlandês (o sempre versátil Joseph Cotten) com má fama entre a elite australiana. O conflito se desenrola a partir da tentativa do sobrinho do governador (Michael Wilding) de ajudar a sofrida mulher a se livrar de seus tormentos do passado. O melodrama é uma escolha fora do usual para Hitch e, apesar da inserção de seus usuais elementos de suspense, as revelações que esses acarretam não deixam de atuar como um anticlímax (o mesmo pode ser dito do filme como um todo). Sob o Signo de Capricórnio deu continuação aos experimentos com longos planos sequência iniciados com Festim Diabólico no ano anterior. Embora a fluidez com que Hitchcock mova sua câmera seja uma arte a parte (e belamente colocada em prática na cena bravura em que Bergman faz uma confissão sobre seu passado), é possível imaginar o quanto a narrativa letárgica teria se beneficiado da característica edição hitchcockiana. Em contrapartida, o diretor já mostra domínio sobre o uso da cor (este foi apenas seu segundo filme em Technicolor) para afetar emocionalmente o espectador e contribuir para a narrativa. Apesar de a produção ter sido um veículo para Ingrid Bergman, a estrela sueca é desbancada pelo desempenho restringido de Margaret Leighton como a inescrupulosa governanta Milly. Remetendo à Mrs. Danvers de Rebecca: A Mulher Inesquecível com sua paixão reprimida pelo seu mestre, a personagem pertence ao panteão dos grandes vilões de Hitchcock.

Any Hitchcock film has interesting things in but this somewhat overheated soap opera isn't one of his best. Would have benefited from being between 15 to 20 minutes shorter.

This is one of Hitchcock's lesser films, it's nothing like his others, and not in a good way. It's a melodrama set in the past. The only good thing I can say is that the cast is good.
See Details