The Zodiac Killer
(1971)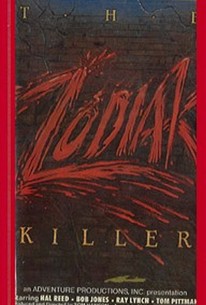 AUDIENCE SCORE
Critic Consensus: No consensus yet.
Movie Info
This 1971 exploitation vehicle is primarily designed for maximum squirms, produced as it was at the height of the true-life killer's notoriety, but it's notable for the efforts made by the filmmakers to include authentic case details while theorizing about the identity of the still-unapprehended serial slayer. Opening with a major red herring in the guise of a trucker who claims to be the Zodiac before being killed by police in a domestic violence standoff, we're eventually introduced to the real psycho, a postal worker named Jerry (Hal Reed) who breeds rabbits in his apartment and murders in order to collect slaves to serve him in the afterlife. From there on we follow Jerry as he haunts lovers lanes and beaches, shooting and stabbing his victims while wearing the same bizarre black outfit described by survivors of the real-life Zodiac's attacks. For dramatic purposes, though, the film presents no survivors, just deaths and occasional near misses when Jerry decides that a potential victim won't serve him well in the great beyond. The low budget contributes to the film's tense, depressing atmosphere, and while no performance is more than simply credible, Reed is effective as the arrogant Zodiac, taunting the police and the press with his defiant letters and phone calls. The film ends with the haunting image of Jerry helping an old woman across the street while he addresses the audience directly, letting us know that we're all potential targets, not only in danger from him but from the hundreds of surreptitious killers just like the Zodiac who roam unfettered and unlikely to be caught. Perhaps The Zodiac Killer's most horrifying moment, however, is a brief cameo by comedian and former Spike Jones Orchestra member Doodles Weaver, who provides a bitterly zealous rant against women that feels uncomfortably real.
Critic Reviews for The Zodiac Killer
All Critics (3) | Fresh (2) | Rotten (1)
What's crazier than the film itself is that all this blood-soaked cinéma vérité was produced with a purpose.
True crime and cinema go together like highways and spree killers. But no film has a more bizarre relationship with real-life murder than 1971's The Zodiac Killer, the first film to be restored by the American Genre Film Archive.
Audience Reviews
There are no featured reviews for The Zodiac Killer at this time.
The Zodiac Killer Quotes
There are no approved quotes yet for this movie.