The Long Walk Home
(1990)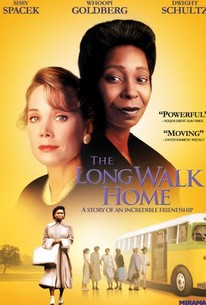 The Long Walk Home Photos
Movie Info
The Long Walk Home is a recreation of a troubled era in American history. The time is 1955; the place, Montgomery, Alabama. When Rosa Parks, an African American woman, is arrested for refusing to give up her bus seat to a white man, it is the first volley in the great Bus Boycott, organized by Dr. Martin Luther King in order to desegregate the Birmingham transportation system. The boycott is a decided inconvenience for Miriam Thompson (Sissy Spacek), a well-to-do white woman. Now, Miriam must drive to the black section of town to pick up her maid Odessa Cotter (Whoopi Goldberg) and bring her to work. Outside of her own social circle, Miriam realizes for the first time just how privileged, sheltered and self-centered her life has been. What brings this fact home is the realization that Odessa has literally been raising two families: the Thompsons' and her own. Odessa has also sacrificed her own health and wellbeing to serve her employers without question or complaint. Awakened to the true inequities of "Separate But Equal", and impressed by Dr. King's edict of nonviolent resistance, Miriam joins the boycott. This stirs up the racist feelings harbored by Miriam's husband Norman (Dwight Schultz), who at the behest of his goonish brother Tunker (Dylan Baker) joins the Klanlike White Citizen's Council.
Critic Reviews for The Long Walk Home
Audience Reviews for The Long Walk Home
½
Before Richard Pearce took a "Leap of Faith", he just took "The Long Walk Home"! "So you think you're a Romeo, playing in a part in a picture show! Take the long walk home, take the long walk home!" Okay, maybe Supertramp is a little too white for this, but then again, I probably shouldn't be talking about this film, at least without people making sure I watch my tongue when discussing this film about Civil Rights in Alabama. Hey, I'm terribly sorry that this happened, and I'm glad that compelling stories like this are being told (Oh yeah, people boycotting a bus; sounds enthralling), but I'm not especially crazy about having liberals judge Alabama based on its past, and I'm not saying that this film is liberal, but it's based on a short film that was produced by students of the University of Southern California. Well, maybe I can forgive Alabama's being destined to probably never be forgiven if we get a good film out of it, and sure enough, that's what we have... with another film. Make no mistake, this film is at least pretty decent, as well it should be, seeing as how "The Color Purple" deserves a decent sequel, though I must admit that this film's issues aren't just with Alabama. Running just a little over 90 minutes, the film is fairly short, but then again, as I'll touch more upon later, the story is fairly brief, so the film ends up able to spare some time for filler whose excessiveness really becomes noticeable when it gets in the way of material's consistency. To be so thin, this narrative has its twists in focus, and when they comes, due to the dragging between what ought to be transitions, they carry a sense of unevenness by spending too much time with each segment, whose potential aimlessness is challenged by predictability. Yes, if nothing else is consistent in this film, it is familiarity, because on top of not exactly having anything new to say, this race relations drama does nothing new with the handling of its subject matter and finds itself falling into the usual beat and path. By this time, it's getting harder to not pay much min to natural shortcomings behind this story, which, no matter how thematically worthy, is dramatically minimalist, with a thinness that is threatening to engagement value in concept, alone. There's not exactly an excuse for thinness to the interpretation to this story, which shamelessly paints its share of character types whose layers are thin and whose thematic quality is thick, further slowing down dramatic momentum which director Richard Pearce tries to compensate for the same way other filmmakers taking on subject matter like this do: with sentimentality. Now, this film is hardly as sentimental as too many of its type, but the more it tries to beef up this narrative to match the value of its themes, the more it actually joins pacing and focal inconsistencies, and formula in calling your attention towards limitations so great that momentum falls from rewarding, and even shy of the border before too long. The final product is about as underwhelming as I feared it would be, but it is nonetheless endearing, with charm and even a bit of taste, even within its score. Alternating between conventional, yet tender piano-driven touches, and a combination of elements of gospel and some slightly modernist jazz sensibilities, George Fenton crafts a score that, quite frankly, is often simply too perky for this drama, and when it's not, it's sentimental, but when either extreme is placed comfortably in the context of the film, it really does liven things up. Actually, I don't reckon the score is all that worthy of praise for being anything more entertaining, because it's all about Richard Pearce's usage of style, as well as other elements, and when it comes to that, well, Pearce makes a mess of a lot of things, and yet, his sentimental heart gets the better of the patient on more than a few occasions, moving as reasonably genuine and tender, without getting too meandering. Perhaps the biggest issue with Pearce is his putting a little too much heart into this project of limited dramatic magnitude, but at the same time, where he could have gone the way of too many filmmakers tackling subject matter of this nature and gone way off of the handled with sentimentality and what have you, he doesn't cloy, and often touches in his bringing life to valuable subject matter. Again, this plot is thin, and the subject matter itself has been explored time and again, but this story concept inspired by true events still has value, touching upon themes dealing with the bust boycott and race relations of Montgomery in 1955 and 1956 that are interesting, and hold a decent deal of dramatic potential. Indeed, no matter how thin, this story does have the potential to touch as an account of notable times in southern communities, and while it does slip up much too much, largely because it's so overambitious, the heart of this narrative and the heart of its interpretation deliver on some glimpses of a better drama, and they couldn't have done so without being carried on the back of the drama's most genuine aspect. Well, the acting's genuineness is undercut by material's being so thin and sentimental, but most everyone charms by distinguishing his or her own particular role in this story, - whether it be Dwight Schultz as a loving and slightly progressive family man whose culture still holds back his values, or Sissy Spacek as a good woman working to uphold her independence for the sake of other's, or Whoopi Goldberg as a proud black woman trying to do right by her loved ones and beliefs - and incorporating more of a sense of depth than the storytellers, aided by a degree of endearing chemistry. Really, strengths are limited, but consistent, and no matter how much the film is held back by natural shortcomings and holds itself back with too much ambition, charm and certain dramatic highlights prove to be touching enough to make the final product pretty enjoyable, even though it could have been so much more. In closing, the film drags its feet along a somewhat focally uneven path formulaically and with a certain thinness and sentimentality which wear down momentum, until the final product is secured as underwhelming, yet George Fenton's nice score, Richard Pearce's tasteful direction, intriguing subject matter, and plenty of charming performances ultimately make "The Long Walk Home" a perfectly endearing look at the Montgomery Bus Boycott, for all its many shortcomings. 2.5/5 - Fair
Cameron Johnson
Super Reviewer
½
Great history lesson re the Montgomery bus boycott. However, production values are low and the acting is less than compelling. This could have been a much more powerful film.
Christian C
Super Reviewer
The Long Walk Home Quotes
There are no approved quotes yet for this movie.