The Lodger: A Story of the London Fog
(1928)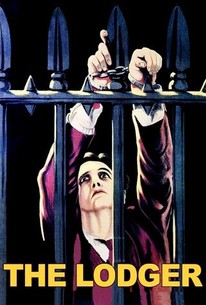 The Lodger: A Story of the London Fog Photos
Movie Info
While the silent The Lodger was not director Alfred Hitchcock's first film, it was the first to truly deserve the designation "A Hitchcock Picture". British matinee idol Ivor Novello plays Jonathan Drew, a quiet, secretive young man who rents a room in a London boarding house. Drew's arrival coincides with the reign of Terror orchestrated by Jack the Ripper. As the film progresses, circumstantial evidence begins to mount, pointing to Drew as the selfsame Ripper. In addition to Novello's 1932 remake, The Lodger was remade in 1944 with Laird Cregar, then again in 1953 as Man in the Attic, with Jack Palance as Jonathan Drew. ~ Hal Erickson, Rovi
News & Interviews for The Lodger: A Story of the London Fog
Critic Reviews for The Lodger: A Story of the London Fog
Audience Reviews for The Lodger: A Story of the London Fog
Now we're cookin'. This is very early Hitchock, like I think one of his first five films. But even though it wasn't his very first, it was the first he really considered his own, and it set the standard for the bulk of his career over the course of the next several decades, by introducing a lot of Hitch hallmarks including his cameo, the "wrong man" theme, visual innovations and stylishness, etc. The story concerns a woman who fears that the latest tenant to take up residence at her boarding house is a Jack the Ripper style murderer known as The Avenger whose been on a recent murder spree across London. Looking back, the story is nothing new or revelatory, and it may not have even been so then, but it's a good yarn, and lots of fun. The film's got a great sense of mood, tone, and atmosphere, complete with lots of fog and some really fitting music. There's some excellent cinematography here, with some neat angles and great lighting. There's some really good art direction as well. The performances are pretty decent, and get the job done, though I don't think they're really brilliant or anything. Overall, this is definitely a must see for Hitchcock fans and general cinema lovers alike. It hasn't really aged that great, but it's still a good piece of work.
Chris Weber
Super Reviewer
I'm starting to think that Hitchcock was better suited for a career of silent films. With no dialogue spoken, Hitch weaves an intricate tale of murder, mass hysteria, jealousy, and the fear that grips the soul that turns man against man. Without the aid of future technology, Hitchcock finds fascinating ways to play with the audience. Whether it be having Ivor Novello walk on a piece of glass, giving the illusion that we are watching him walk on the ceiling above, or really emphasizing every time the lodger picks up a potentially lethal device, a trick used over and over again throughout the ages, this film is very well done. On top of this, Mr. Novello gives quite an unforgettable performance. Brooding, menacing, but with a sweetness underneath it all. It is a fine line, but he walks it masterfully. While not one that you are sure to watch over and over again, it would be a great pick for a friend who gets turned off by "silent pictures." It moves at the pace of its contemporaries and is far better than what passes for most "thrillers" nowadays.
½
ivor novello was a bit hammy but he compensated by turning up later as a character in gosford park :) seriously, the film owes ALOT to the german expressionists and the plot is rather predictable but it is fascinating to see the genesis of hitch's beloved 'wrong man' theme. some creative visual touches too
Stella Dallas
Super Reviewer
The Lodger: A Story of the London Fog Quotes
There are no approved quotes yet for this movie.