Above and Beyond
(1952)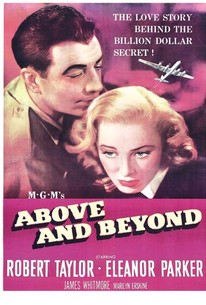 AUDIENCE SCORE
Critic Consensus: No consensus yet.
Movie Info
Above and Beyond is the story of the atomic bombing of Hiroshima, as told from the perspective of the man who flew the mission. Robert Taylor stars as Col. Paul Tibbetts, commander of the Enola Gay. Once selected for this extremely dangerous mission, Tibbetts must hand-pick a crew worthy of the task. He is also forced to keep his mission a closely guarded secret, even unto withholding all information from his loving and patient wife Lucey (Eleanor Parker). The film concentrates on the strain placed upon Tibbetts, his crew and their families in the crucial days before the "big drop". The bombing itself is handled with taste and decorum, though the horror and mixed emotions of the moment are brilliantly conveyed on the faces of Tibbetts and his men. Above and Beyond represents a rare noncomedy endeavor from the writer-director team of Melvin Frank and Norman Panama.
Critic Reviews for Above and Beyond
All Critics (2) | Fresh (2) | Rotten (0)
Spirited flag-waver about doing a controversial mission beyond one's duty.
Though the story of Col. Paul Thibbetts (Robert Taylor), the pilot who dropped the bomb on Hirsohima, is interesting, the movie is compromised by having too many domestic scenes with his wife (Eleanor Parker).
Audience Reviews for Above and Beyond
½
Robert Taylor is (was) so pretty, I'll watch anything he's in. Luckily he made some decent movies over the years -- Waterloo Bridge, Rogue Cop, Camille, Johnny Eager. Above and Beyond is one of the better ones. It's the true story (I'm sure Hollywood-ized as much as they could get away with) of Col. Paul Tibbets, the pilot who flew the Enola Gay to drop the atomic bomb on Hiroshima. This film basically gave Americans an idea of what actually was going on before and during the decision to bomb Japan. Not a war movie, but a movie about war, and in particular the "war at home." Eleamor Parker plays Tibbets' wife Lucy, who goes through hell in trying to hold her marriage together with a man who holds all sorts of secrets he's forbidden to share with her, almost to the point of divorcet. He's not allowed to tell her about the plans for Japan, so she assumes the problem must be with him or her. It's torturous for both of them. The title of the film I felt was significant for not only what the pilots were being asked to do, but also for what Tibbets was required to do -- keep secrets from his family, weeks and months away from home, pretend his marriage is no longer a priority -- going "above and beyond the call of duty" in protecting the mission. I was surprised by my reaction to the scenes where the bomb is being dropped, and the aftermath -- burning streets, flattened buildings -- seen from the sky (was that real footage or faked?). I actually teared up at the thought of what these men had to do, and what the survivors on the ground were going through, and just how horrific -- although likely necessary (the jury's still out in my mind) -- the whole thing was. Robert Taylor to me has always been under-rated. Yeah, most of his characterizations are probably just him playing himself, but doesn't Clint Eastwood, John Wayne and many others basically do the same thing? He's not a GREAT actor, but he's convinced me well enough numerous times. But even when he's bad, he's still good....yummy.
Above and Beyond Quotes
There are no approved quotes yet for this movie.
Discussion Forum
Discuss Above and Beyond on our Movie forum!