Black and White
(1999)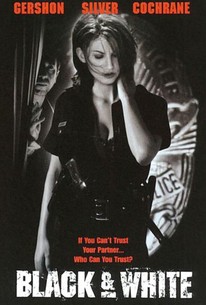 Movie Info
Featuring plenty of action and erotic romance, this direct-to-video police drama centers on the relationship that develops between a rookie and his new partner (Gina Gershon), a beautiful, experienced maverick cop, as they embark upon a desperate search for the psycho who, dressed as a police officer, has gone on a terrifying killing spree. The duo arrest several suspects, but each one later turns up dead. When the veteran cop is accused of the crimes, it threatens not only her livelihood but also her newly established personal and professional relationship with her partner.
Rating:
R (adult situations/language, violence)
Genre:
,
Directed By:
Written By:
In Theaters:
On DVD:
Runtime:
Studio:
Sony Pictures Home Entertainment
News & Interviews for Black and White
Critic Reviews for Black and White
Audience Reviews for Black and White
Not really ground breaking or anything. The story wasn't all that enthralling, but there were some excellent performances, namely Ben Stiller and Robert Downey, Jr. Worth watching if you stubble across it, but I wouldn't recommend spending any money on it.
Andrew K
A movie full of promise, anticipated by an all-star cast, leaves one wondering as to how this movie could be so boring. A central theme true to today's society niches' of young white Americans acting and talking like urban uneducated African Americans was a good idea gone bad. Don't bother with this one.
Redneck Reviews
½
I read one of reviews for this movie, written by phillip, in which he questions the worth of the roles played by Schiffer and that "comedian" that shall remain nameless. I thank phillip for his questions because they forced me to produce answers I may have not examined more closely. As fragmented and choppy as those story lines were, their existence is more real and true than the rest of the movie. As unnecessary and non-sensical the actions of Schiffer and the detective were, they exemplify how disposable the lives of these folks are to the privileged outsiders. Outsiders that live in estates, and view the world from the balcony of suburbia. Some, like Sam, simply want an interesting story, or footage for their documentary. The detective wants something more... he intentionally facilitates the murder of the black college student he entraps, which conveniently provides immunity for his own crimes. Equally as nefarious, Schiffer wants to fill her twisted psychological and emotional void, while playing her part in the death of the fallen. Everyone takes at some level. The raunchy wannabe kids take what suits their pop culture identity, the women live out their momentary fantasies, the comedian takes a promising life. As lost the lives of these inner city black men may have been, they were made much worse by the privileged pseudo-bohemians that interlop into their world, and escape in black limousines at the end of the night.
Winston Wolf
Black and White Quotes
There are no approved quotes yet for this movie.