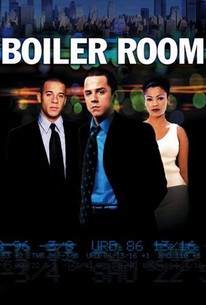 Boiler Room
2000, Drama, 2h 0m
103 Reviews
25,000+ Ratings
What to know
critics consensus
Its ending is disappointingly tidy, but Boiler Room boasts just enough sharp writing and brisk pacing to make getting there worthwhile. Read critic reviews
Where to watch
Rent/buy
Rent/buy
Rent/buy
Rate And Review
Movie Info
Welcome to the infamous "boiler room" -- where twenty something millionaires are made overnight. Here, in the inner sanctum of a fly-by-night brokerage firm, hyper-aggressive young stock jocks peddle to unsuspecting buyers over the phone -- and are rewarded with mansions, Ferraris and more luxury toys than they know what to do with. In this unassuming Long Island enclave, Gen Xers chase the green at breakneck speeds, sometimes one step ahead of the law.
News & Interviews for Boiler Room
Audience Reviews for Boiler Room
Good screenplay and good actings.

Illegal stock trading, Gekko style, reheated with a young cast. Noteworthy performances by Ribisi, Long, Affleck and Rifkin carry a rough script and direction that favors lots of jump cuts.

"There is no question whether or not you'll become a millionaire here. The only question is how many times over." Quite frankly, I expected this to be absolute crap. I'm not much of a fan any of the cast, I'm not familiar with the director, and the premise sounded like a bad television movie. But Boiler Room turned out to be a fairly entertaining Gen-X spin on flashy, corrupt stockbrokers. The main character Seth (Giovanni Ribisi) is a smart guy, but college isn't really for him. He drops out to run a successful illegal casino from his apartment. But when an old friend offers him an opportunity to work for a lesser known, maverick trading company, Seth jumps at the chance to make a lot of money legitimately, and possibly repair his strained relationship with his father, as a result. But, while Seth's natural talent for selling makes him a rising star at the firm, he slowly finds out that his new employer may not be quite so legitimate, after all. The story is pretty ridiculous, and it's portrayal of stock trading is more entertaining than realistic. But hey, it's a movie, not a documentary. The supposed party-lives of the hotshot young brokers are a little over the top (shooting dice, really?), and the relationship between Seth and Abby (Nia Long) is undercooked and seems to not have much significance within the plot, but his interactions with his stern, disapproving father (Ron Rifkin) are much more resonant. Boiler Room name-checks Glengarry Glen Ross and Wall Street, but it's not quite up to the challenge of being a more recent version of those movies. It is a decent rise-and-fall kind of flick, though, and when it plays fast and loose with its subject matter, it all sort of works.
See Details