Luther
(2003)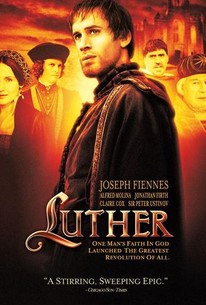 Movie Info
A biopic which examines Protestant reformer Martin Luther's personal battles, and his transformation from a simple monk into leader of the Protestant movement--and, in the eyes of the Vatican, an ecclesiastical terrorist.
People Who Like this movie also like
Critic Reviews for Luther
Audience Reviews for Luther
A great film. This was a lot better than I thought it would be and a really good insight on the state of the Catholic Church at the time. It reaffirmed what I had already though and gave a neat perspective on the life and times of Martin Luther, a man who was willing to go against the grain for something he believed in. Something more people should do these days.
I am not a religious person, but I do appeciate a good historical biodrama. This is a movie that does Martin Luther a great justice, and shows how this man formed some of his thoughts and ideals that he would use to change the world by taking on the Catholic church. Taking on the Catholic church in those days meant risking death. Amazing that he accomplished so much, and developed such a great following. There are some scenes, however, that depict him as being just slightly out of his mind...but I find a lot of geniuses are slightly off kilter. Martin Luther included....
Cynthia S.
Super Reviewer
fantastic film. accurate and very well acted, great portayal of the start of the reformation
Luther Quotes
| | |
| --- | --- |
| Martin Luther: | Your Imperial Majesty and Your Lordships demand a simple answer. Here it is, plain and unvarnished. Unless I am convicted [convinced] of error by the testimony of Scripture or (since I put no trust in the unsupported authority of Pope or councils, since it is plain that they have often erred and often contradicted themselves) by manifest reasoning, I stand convicted [convinced] by the Scriptures to which I have appealed, and my conscience is taken captive by God's word, I cannot and will not recant anything, for to act against our conscience is neither safe for us, nor open to us. On this I take my stand. I can do no other. God help me. |
Discussion Forum
Discuss Luther on our Movie forum!