Main Hoon Na
(2004)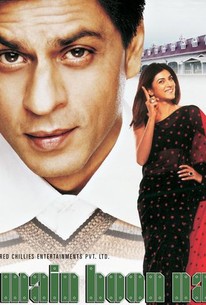 AUDIENCE SCORE
Critic Consensus: No consensus yet.
Movie Info
Major Ram Prasad Sharma yearns to see the ambitious project Mission Milaap become a reality. The mission may prove to be the dawn of a new tomorrow, ending the long-standing enmity between two countries. But, some forces do not want that dawn to come. One of them is Raghavan who will do anything, including threatening the life of General Amarjeet Bakshi's daughter Sanjana. To protect Sanjana, Ram Prasad poses as a student at her school. But, Ram Prasad also has another agenda. He must fulfill the dying wish of his martyred father Brigadier Shekhar Sharma. This task involves intense emotions and long-standing misunderstandings, and strangely, the key to its success also can be found at Sanjana's school. As Ram Prasad Sharma struggles to carry out his dual missions of love and violence, his only mantra is "Main Hoon Na!"
Critic Reviews for Main Hoon Na
All Critics (4) | Fresh (4) | Rotten (0)
The climactic, explosions-, martial arts- and (yes) birds-heavy climax is, indeed Too Much, but on top of being funny, it's also genuinely exciting and a hell of a lot of fun--which aptly sums up the entire film.
...exudes an infectious joy and a far-reaching love of cinema that puts the typical Hollywood summer blockbuster to shame.
Audience Reviews for Main Hoon Na
[b][size=5][color=darkblue]MAIN HOON NA (2004)[/color][/size] [/b] [b] [/b] [i][img]http://upload.wikimedia.org/wikipedia/en/thumb/1/13/Poster_mainhoonna.jpg/200px-Poster_mainhoonna.jpg[/img] [/i][b][i]Main Hoon Na u svojih 3 sata nam na ekran donosi prièu o majoru Ramu Prasad Šarmi (Shahrukh Khan) i njegovim naporima da zaustavi teroristu Raghavana (Sunil Shetty). Major Sharma istovremeno pokušava da popravi odnose sa prvom ženom svog oca i svojim polu-bratom, ali je za to prvo potrebno pronaæi par koji je nestao posle dolaska Rama u kuæu... Major Raghavan Data je bivši oficir indijske vojske koji je izbaèen nakon ubistva 11 pakistanskih civila koji su prešli na indijsku stranu u potrazi za vodom. On pokušava da uništi projekt Milaap (Jedinstvo), prvi korak koji su Indija i Pakistan uèinili za približavanje dveju strana. Pokušati i samo ovlaš preprièati ovaj film bi trebalo 10-tak strana, pa to neæu èiniti. Samo æu spomenuti da je otac Rama, general i voða projekta Shekhar Sharma (Naseeruddin Shah) , ubijen, a Ram odlazi u koledž da spreèi ubistvo æerke brigadira Amir Singh Bakshi (Kabir Bedi - jel se neko još uvek njega seæa?), prelepe i veoma talentovane Sanjane (Amrita Rao). U istom mestu nalazi i prvu ženu svog oca Madhu (Kiron Kher) i polu-brata Lakshmana (Zayed Khan) . Tipièan Bolivudski film sa borilaèkim veštinama, pevanjem, igranjem, ljubavnom prièom, trilerom, akcijom... ne znam kako, ali ovi filmovi vas tako uvuku u prièu da sam morao ostati do 2 ujutru da ga dogledam do kraja... i vredelo je... Od mene 6/10![/i][/b]
½
Here's an interesting movie with lots of laughter, music, dancing, and all around fun. Ram is in the military and enjoys what he does, but an incident causes him to lose his father. He is left with a duty that he must fulfill and to honor his father's last wishes. He must pose as a student, and protect a general's daughter as well as unite his estranged family. Great cast- Shahrukh Khan, Sushmita Sen, Amrita Rao, Zayed Khan, and Suniel Shetty. Worth seeing!
Main Hoon Na Quotes
There are no approved quotes yet for this movie.