Summer Storm (Sommersturm)
(2006)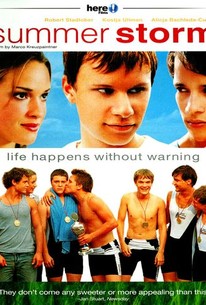 Summer Storm (Sommersturm) Photos
Movie Info
Tobi and Achim have been best friends for years. As cox and oarsman, they have helped their team win several rowing cups in the past and are now looking forward to the big regatta in the countryside. But, this trip is no summer camp and the first problems soon arise. As Achim's relationship with his girlfriend grows more serious, Tobi starts to realize that his feelings for Achim run deeper than he's willing to admit to himself. He feels confused, unsure of himself and increasingly left out. When the much-anticipated Berlin girls' team is being replaced by a team of athletic, cliché-busting young gay men, Tobi and his teammates are suddenly forced to grapple with their prejudices, their fears, and, perhaps, their hidden longings. As the tension grows, Tobi, Achim and the others head toward a confrontation as fierce and ultimately as liberating as the summer storm gathering over the lake.
Critic Reviews for Summer Storm (Sommersturm)
Audience Reviews for Summer Storm (Sommersturm)
½
This sweet gay German film has some great music and some really tender moments.
Sunil Jawahir
Super Reviewer
I hate romance movies. BUT I love gay romance. I have no idea why and so in July of 2008 I just watched a lot of gay romance movies because they are so damn awesome. They are the only kind of romance movies in which I want the characters to get together. So anyway, although the main guy was ugly and looked like Brad Greenquist (Pascal from Pet Sematary) I still enjoyed it. For some reason in every gay movie I watched one of the guys would be extremely ugly and the other... not. Um... so it was kind of funny and ok, but I wanted Tobi and Achim to get together (like I said I always want happy endings in gay romance and unhappy endings in hetero romance, and I'm a straight female... go figure).
Lauren Donis
Super Reviewer
Great movie! Great music.
Summer Storm (Sommersturm) Quotes
There are no approved quotes yet for this movie.