The Woods
(2006)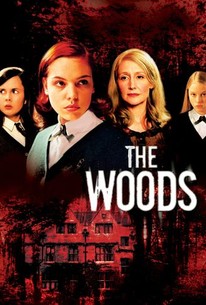 Movie Info
A psychological horror story that begins when a neglected teenager, named Heather, is dropped off by her parents at a remote all-girls boarding school deep in the forest. Watched over by sinister headmistress Ms. Traverse and her staff, Heather is tormented by her classmates and is desperate to go home. But when students start disappearing and she begins to have horrifying visions, Heather realizes that things at school are not quite what they seem. She only knows there's something out there in the woods -- and it won't be letting her leave anytime soon.
People Who Like this movie also like
News & Interviews for The Woods
Critic Reviews for The Woods
Audience Reviews for The Woods
The performance by one and all the actors & actresses involved was top-notch. Wish I could say that about the movie's script too!!! While the movie wasn't great, it was relatively watchable. See it or miss, whatsoever you wish.
familiar stranger
Super Reviewer
I have watched this twice now, and have changed my original rating from 3 1/2 to 4 stars. I think the first time I watched it I expected a standard horror movie, which this isn't. I actually really enjoyed this second time around as I could appreciate it's subtleties a little more. Instead of pretty cardboard cut out teens with little background being terrorized, you have real characters here and the story takes time to build. I was very impressed with Agnes Bruckner here as Heather - i had only seen her play the cute girl prior to this. And while she is still attractive here, it is in a more plucky and individual way - certainly she is outcast here and teased about her red hair. Heather has been sent away to boarding school by her parents for misbehavior at her previous school. Her mother can't wait to get rid of her. She is offered a scholarship to this school, though she circles any old thing on her multiple choice quiz, which is the first clue that the beautiful, but creepy headmistress played wonderfully by Patricia Clarkson, wants her for some other reason than her brains! This takes time to build up as you slowly get to know the girls, and by the time some of them start to disappear, you care about them. Not an overly gory movie and the body count is fairly low for this genre, but I don't necessarily call that a bad thing. There are plenty of scares and creepy moments here.
Nicki Marie
Super Reviewer
Figured out the ending way early. Watched mostly due to Patricia Clarkson being in it, but it wasn't scary or even the least bit creepy to me. Could have spent the time doing better things.
Leigh Ryan
Super Reviewer
The Woods Quotes
There are no approved quotes yet for this movie.