Senki (Shadows)
(2007)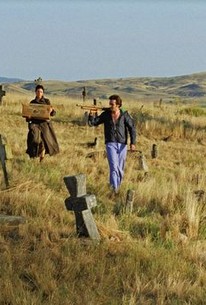 Movie Info
A successful young doctor with a beautiful wife, a happy child, and a comfortable house finds his life suddenly changed in ways he never thought possible after being injured in a serious car accident. To the outside eye Lazar Perkov (Boris Nacev) has everything -- indeed his friends and colleagues have even gone so far as to christen him with the nickname "Lucky." But appearances can sometimes be deceptive, and despite having all the creature comforts, Lazar is constantly trying to live up to the demands of his overbearing mother and discontented spouse. Every day seems to be pretty much the same for the man they call Lucky, until one day when Lazar barely survives a devastating automobile accident. Upon recovering from his life-threatening injuries, Lazar is confronted by a series of people who appear to die time and again, and always deliver the cryptic message "Return what is not yours. Have respect." Experiencing such visions in dreamland is one thing, but when they begin to invade his waking life, Lazar quickly draws the conclusion that these apparitions are simply lost souls who have yet to find peace in the afterlife. When the specter of an old woman begins speaking in a dialect Lazar can't recognize, the frightened accident survivor seeks out the aid of a linguistics professor in deciphering her message. Despite the fact that the professor always seems to be away at a conference, his wife is more than willing to help. Soon, she and Lazar have entered into a bizarre relationship. Unfortunately for Lazar, the situation only grows more haunting, and as the people around him begin to appear and disappear at random, and his wife appears indifferent to her husband's fate as she departs for a seaside vacation with her lover and child.
News & Interviews for Senki (Shadows)
Critic Reviews for Senki (Shadows)
Audience Reviews for Senki (Shadows)
There are no featured audience reviews yet. Click the link below to see what others say about Senki (Shadows)!
Senki (Shadows) Quotes
There are no approved quotes yet for this movie.