Shank
(2009)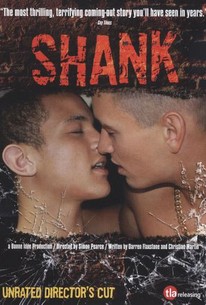 Movie Info
Award-winning filmmaker Simon Pearce takes the helm for this gritty coming-of-age story about a teenage gang member who keeps his homosexuality a secret from his fellow thugs. Eighteen-year-old Scally lad Cal (Wayne Virgo) is all about sex, drugs, and violence. He's a hoodlum at heart, but his sexual urges set him apart from the pack. Despite random hookups, it's fellow gangster Jonno that Cal really wants. Secretly pining for Jonno from afar, Cal gets uneasy when de facto gang leader Nessa grows suspicious of his sexuality. When Nessa commands the gang to mug an innocent student named Oliver and the incident turns into a gay bashing, Cal distracts the gang momentarily so Oliver can escape. Worried about the repercussions of his impulsive act of heroism, Cal seeks help from Oliver, who offers him a place to stay until it all blows over. With Oliver, Cal can finally be himself, and the two men slowly fall in love. But Nessa is out for revenge, and she's determined to hit Cal where it hurts by kidnapping Oliver and luring his lover into a trap at an abandoned warehouse. There, Nessa fuels the fire of hatred, and Jonno commits an act of sexual aggression that will change everyone who witnesses it forever.
Audience Reviews for Shank
At times the movie is flawed, but overall the story told of a conflicted young man coming to terms with who he is while in a place he can't be who he is. Over acted at times but a pretty good cast led the best actor in this film Wayne Virgo. I expect more good things from Mr. Virgo.
Thomas Johnston
Super Reviewer
Sad, depressing tale of deeply troubled and violent kids in England. Most of the characters are so repugnant and their acts so thoughtlessly cruel you could care less about them. Good acting is its only saving grace.
Shank Quotes
There are no approved quotes yet for this movie.