Wake
(2009)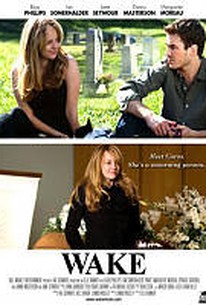 AUDIENCE SCORE
Critic Consensus: No consensus yet.
Movie Info
Can a girl find romance with a guy who has just buried the love of his life? Carys Reitman (Bijou Phillips) is a young woman who has a hard time connecting with other people, despite her friendly and accepting nature. Carys' problem might have something to do with one of her hobbies -- she likes to attend funerals for people she's never met, something she's done often enough that one of her best friends is a funeral director, Shane (Danny Masterson). One day, Carys is once again paying her respects when she meets Tyler (Ian Somerhalder), a handsome and charming man who was engaged to marry the deceased. Carys finds herself attracted to Tyler and thinks she may have finally found the man who can help her get over her anxieties about others, even though Shane and Lila (Marguerite Moreau), Carys' roommate, are certain pursuing him is a bad idea. As Carys dares to open her heart to Tyler, she also tries to mend her broken relationship with her mother (Jane Seymour). Wake was the opening night feature at the 2009 Cinequest Film Festival.
Critic Reviews for Wake
All Critics (4) | Fresh (3) | Rotten (1)
'Wake,' a short independent film, touched me more deeply than most big budget mainstream dramas.
... thoughtfulness, genuine sincerity, and total emotional honesty are what one can expect from Wake.
Everyone on the set clearly had a good time, and their fun easily transfers to the audience.
March 9, 2009 | Rating: 3/4
Audience Reviews for Wake
½
Looks like I missed reviewing this one. Is a shame, because as it's not fresh in my mind, I can't remember why I was underwhelmed by it. I just remember thinking Bijou is cute, and it's harmless enough, but fell flat or failed to keep my interest.
Nicki Marie
Super Reviewer
A woman who goes to funerals in order to "feel something" and mourn for her sister's long-ago death falls for a dead woman's fiance. I really like the comic, dramatic, and suspenseful possibilities the idea for this film had. A quirky romantic comedy set in a funeral home is a good mix of dark and light-hearted elements. A woman who must go to funerals in order to resolve old wounds falling for an equally damaged man could be heart-warming if handled correctly. And a woman falling for a man who could be his ex-fiancee's killer is also a fine plotline. All of these plots are here, but none is carried well. I knew the performances were too heavy, too aggressive for a good romantic comedy during the very first scene when Phillips and Gomez's characters spar about her presence in the funeral home. He is too aggressive in his pursuit of her, and she responds with equal ire. We then move to the second possibility: the drama about a woman who tries to feel by attending strangers' funerals. But Phillips's performance is too light-hearted, quirky, and aware of her own ridiculousness for us to see her actions as anything other than that which serves the plot. If I met her on the street, I would think of her funeral-going as a contradiction rather than a natural response to her past. And the suspense story hardly picks up any steam until midway through the second act. Overall, Wake is the definition of an uneven film, unsure of what it is, which is sad because it had a lot of potential.
Jim Hunter
Super Reviewer
Cute and a bit funny. Classic romantic comedy...
Leigh Ryan
Super Reviewer
Wake Quotes
| | |
| --- | --- |
| Tyler: | The very first time I ever met her she walked up to me in the whole dormitory and kiss on the mouth. |
| | |
| --- | --- |
| Tyler: | My grandmother used to tell me, always said, "You will never love a place more than you love Texas, and never love anyone which is not Texan. " But she was wrong. Places are places, but I'm in love with you. |
| | |
| --- | --- |
| Carys Reitman: | I just saw... |
| Tyler: | I can't hear what you say. |
| Carys Reitman: | Maybe it's better because there is something I could not say other way. I lied. |
| Tyler: | What are you saying ? |