Chopper
(2001)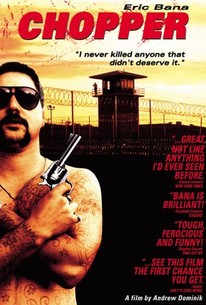 TOMATOMETER
AUDIENCE SCORE
Critic Consensus: Eric Bana's performance as the charming but twisted Chopper is the highlight of this disturbing portrait about Australia's notorious author/criminal.
Movie Info
What happens when you take the toughest guy you can imagine and make him Australian? He gets even tougher. Mark "Chopper" Read, best-selling author and underworld executioner, is Australia's most infamous and self-promoting criminal. His knack for killing and storytelling set him on an unlikely path toward the fame he has always dreamed of attaining. The film begins in a maximum-security prison, where Chopper's erratic behavior and dishonesty lead his "friend" to stab him repeatedly. Fearing further retribution, he cuts off his ears to obtain a transfer. The story then jumps eight years. Chopper, who's now on the fast track to a place where fact and fiction are increasingly blurred, is released. Filled with resentment and guilt and searching desperately for his hidden enemy, he kills a minor criminal in a fit of paranoia but manages to beat the charge by virtue of his now well-honed fabricating ability. However, he's charged with another offense and returned to jail where he writes an exaggerated account of his life of crime.
People Who Like this movie also like
Critic Reviews for Chopper
Audience Reviews for Chopper
Although less intelligent and fancy, and a whole lot more insecure, Eric Bana plays aussie career criminal "chopper" as some kind of modern day Alex DeLarge. Joie de vivre, disproportionate ego and paranoia ignite a cinematic cocktail with a brutal, darkly humourous and strangely engrossing taste.
Pierluigi Puccini
Super Reviewer
Chopper is one of the most incredible crime films that I've seen. The film tells the story of career criminal Mark "Chopper" Read. With this film it's almost impossible to tell fact from fiction, as Chopper's exploits seem too good to be true. Reid is a man who always fused explosive made up facts to tell a good yarn, and you really do see it in the film. Brought to life with amazing skill by actor Eric Bana who portrays Read in such a way that you cannot easily dismiss his strong screen presence no matter what your stance on the film is. One thing is for sure, Bana has never been better in any other film. Chopper was his best performance and he has yet to top it. The film takes a look at the life of this interesting and notorious criminal. The film hard to watch as it's very violent, and it gives you an insight into the mind of this larger than life criminal. The film is superbly crafted by director Andrew Dominik. Chopper is an electrifying film and is by far the most original crime film in quite some time. This is a film that crime film fanatics shouldn't pass up on. A solid piece of raw, gritty cinema; Chopper is a brilliant film combining the facts (and often fiction) of Australia's very own Billy The Kid. One of the reasons this film is so exciting is that Chopper Read is such an interesting figure that one cannot tear away from the screen, you are almost forced to watch his acts of depravity and you cannot look away because you want to know what this charismatic career criminal will do next. Chopper is not a film for the faint of heart as it often rough and violent, but never boring.
½
An almost unrecognisable Eric Bana plays notorious criminal Mark "Chopper" Read whose "memoirs" and musings on life made him one of Australia's best selling authors of all time. It's actually very difficult to tell how much of this film is true, and how much is Read's creative "embellishments"; fact and fiction merge to the point where the same events are shown two or three times to show Read's version, the witness' version and (maybe!) the truth. But what definitely comes through is Chopper's larger than life persona, and he is in turns funny, charismatic, frightening and above all, a stark raving lunatic. He makes Tommy from Goodfellas look like the picture of emotional stability. It is a very interesting character study of a man who has no concept whatsoever of playing by society's rules, and as such it makes for a funny and disturbing story as you never really know what he is going to do next; he was literally a ticking time bomb of paranoic violence and he was just as likely to give you a big, friendly bear hug and a fistful of cash as a knife blade in your eye socket. Bana is fantastic in the lead role in a performance he is yet to match since his relocation to Hollywood, but this is the kind of part that quite possibly comes along once in a lifetime. The one flaw is that the early scenes in prison are the most interesting, the rest of the story never quite measuring up to the opening but otherwise it's a bit of a must see for anyone interested in true (!) life crime.
Chopper Quotes
| | |
| --- | --- |
| Mark "Chopper" Read: | Look at what you've done! You're mum's upset. |
| | |
| --- | --- |
| Mark "Chopper" Read: | Keithy seems to have done himself a mischief. |
| | |
| --- | --- |
| Mark "Chopper" Read: | Neville never should have stepped into the criminal world unless he was prepared to stick his whole bloody leg into it. |
| | |
| --- | --- |
| Mark "Chopper" Read: | No, I did not drive him to the hospital! Do I look like Mother Teresa to you? |