Alter Egos
(2012)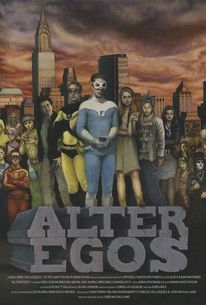 AUDIENCE SCORE
Critic Consensus: No consensus yet.
Movie Info
Alter Egos takes place in a world in which superheroes have recently lost all government funding and public support. It centers on an under appreciated superhero who jeopardizes a dangerous mission with his own emotional crisis--his girlfriend is cheating on him with his alter ego. (c) Official Site
Critic Reviews for Alter Egos
There are no critic reviews yet for Alter Egos. Keep checking Rotten Tomatoes for updates!
Audience Reviews for Alter Egos
watchable but not that great at all.
Shawn Montague
Super Reviewer
I have mixed emotions here. This is obviously a low, low, low budget stab at the super heroes-are-real-people genre. I'm fine with no-budget movies that show it, a lot of times they're outstanding. But it's just grating here: in the editing, cinematography, effects, location, et cetera. It doesn't help that the poor direction and predictable plot and dialogue (giving the movie an "undercooked" feel), all seem like one of your better high-school student projects. I cannot with clean conscience call it a "good" movie. It fits no mainstream or critical definition of a "good" movie. If you always like what either "regular people" or critics call "good," you'll probably hate this. That doesn't mean I don't like it. It's actually rather endearing. The honesty behind every aspect of Alter Egos makes it seem charming in just the same way as some of the sophomore efforts of many filmmakers who are more well-known today. They make you want to say "good for you, guys! You can do it!" There are some genuinely funny lines. I know what I said above about the writing, but when was the last time you read *good* student writing? They have their moments, even if few and far between. The plot does have "blgaah!" moments, where it only makes sense as "THIS IS A PLOT DEVICE," but those moments make no less sense than any well-respected actual comic book, so it's not glaringly bad in context. The acting is sometimes wooden, not helped by the script, but I really can't bring myself to hate all that much, as the actors are earnest in their attempts, which only makes it cuter (as opposed to awful). The attempt to make a movie that is a thoughtful rom-com, with superhero plot-twists, intrigue, and action to drive the plot, is clear. Too clear. It's SO obvious, though, you want to pinch the movie's cheeks and say "D'awwh! That's so adorable!" There's a certain innocence here, where the creators are trying so hard to make a fun, unique, meaningful story, that they somehow both fail and yet also succeed with the honesty of their effort, as well as knowing and embracing how cheesy their own subject matter is. The "R" rating on this is completely inappropriate. This seems like a fine movie for mature high-schoolers. Its themes are much less "mature" or risque than anything I'd see on Degrassi reruns, for instance. The violence is incredibly mild compared to many other movies or shows kids see. Without the occasional foul language, there's nothing here that isn't PG-13. Seriously, is admitting that adults have "sleepovers" sometimes, and sparingly use bad words, make this an "R?" When all the recent Marvel and DC movies combined depict the graphically violent and bloody mass slaughter of thousands? WTF? This seems like a movie that would perfectly fit in with the Nickelodeon for kids who are allowed to stay up after 9 or 10, more so than the raunchy and/or disturbing content of Fox, Adult Swim, or Comedy Central nighttime programming aimed at adults. I could even see this as a basis for a serial aimed at teens. As much as I have to say this wasn't a "good" movie, just as "The Specials" wasn't a "good" movie, just as "The Platoon of Power Squadron" isn't going prime-time anytime soon, it's just as enjoyable an entry as either of those. "Mystery Men" will always be the defining movie of this sub-genre, but if I'm ever going to have another silly superheroes-are-people-too movie marathon, this one's going to be on the playlist.
Durty Willy
Firstly this is definitely a low budget movie. The acting would have to be described as sub-par. The environment is quite bland since the majority of the movie takes place at some modest motel. So don't expect to be amazed by anything because neither the special effects nor the story have that wow factor. What I did enjoy was how the movie left me feeling. I can't say that Brooke Nevin's( Claudel) performance in this movie was great but she did manage to have me crushing on her by the end of the film. "SORTA SPOILER"What this movie did for me was remind me that whoever you fall in love with should not only except you for who you are but love you for who you are.
Nicholas Chew
Alter Egos Quotes
There are no approved quotes yet for this movie.
Discussion Forum
Discuss Alter Egos on our Movie forum!